FIFA 19
FIFA 19 celebrations: How to do Little Brother, Giddy Up & more on Xbox One and PS4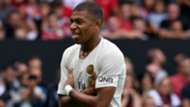 FIFA 19 has a huge number of improvements from previous incarnations of the world's most popular football video game, with the Champions League front and centre in this year's edition.
Among the additions are also new skills and even some new celebrations to troll your mates after scoring a sensational goal, or even better, a dodgy cut-back!
Some of the new celebrations in FIFA 19 are exclusive to the player who does them in real life e.g. Jesse Lingard's Milly Rock, but others like Mohamed Salah's trademark kissing the ground celebration can be done by any player in the game.
Like the skills, some of the celebrations require a little practice to pull off perfectly, as you have to perform the button presses quickly after scoring.
Luckily, Goal explains exactly how to do all the new FIFA 19 celebrations on Xbox One and Playstation 4.
---
FIFA 19 CELEBRATIONS ON XBOX ONE
---
On the Xbox One, most of the new celebrations involve holding one of the shoulder buttons and then flicking the right stick in various directions.
Some of these, like Paul Pogba's Giddy Up celebration (don't worry, his dab is still in the game) are fairly simple, while others like Ronaldinho's classic Hang Loose require a bit more effort.
There are a few celebrations that are player-specific at the bottom of this list and these can only be performed after scoring a goal with the player in question.
| Celebration | Instructions |
| --- | --- |
| Mbappe's Little Brother | Hold LT, press B twice |
| Pogba's Giddy Up | Hold LB, press R3 |
| Jesus's Phone It In | Hold LB, hold right stick up |
| Ronaldinho's Hang Loose | Hold LB, hold right stick up then down |
| Neighbourhood | Hold LT, flick right stick down twice |
| Salah's ground kiss | Hold LT, hold right stick right |
| Firmino's Matador | Hold RT, hold right stick down then up |
| Lingard's Milly Rock | Press A as Lingard |
| Ronaldo's Number One | Press A as Ronaldo |
| Griezmann's Crocodile | Press A as Griezmann |
| Ronaldo's Double Siii | Press A as Ronaldo near team-mate |
---
FIFA 19 CELEBRATIONS ON PS4
---
The celebrations on Playstation 4 require the same combination of buttons to be pressed, but as the controllers are slightly different, have different names for the buttons.
Most of the instructions are straightforward, but even if you press the wrong buttons, they will usually result in some celebration from FIFA 19 or FIFAs past which will annoy your opponents.
For some of the players, just pressing 'X' or nothing at all will allow them to do their default celebration, meaning that Lingard will automatically do his Milly Rock dance even if you don't press any buttons after scoring with him.
| Celebration | Instructions |
| --- | --- |
| Mbappe's Little Brother | Hold L2, press O twice |
| Pogba's Giddy Up | Hold L1, press R3 |
| Jesus's Phone It In | Hold L1, hold right stick up |
| Ronaldinho's Hang Loose | Hold L1, hold right stick up then down |
| Neighbourhood | Hold L2, flick right stick down twice |
| Salah's ground kiss | Hold L2, hold right stick right |
| Firmino's Matador | Hold R2, hold right stick down then up |
| Lingard's Milly Rock | Press X as Lingard |
| Ronaldo's Number One | Press X as Ronaldo |
| Griezmann's Crocodile | Press X as Griezmann |
| Ronaldo's Double Siii | Press X as Ronaldo near team-mate |