Premier League
Fantasy Football: Chelsea dominate the Goal Fantasy Team of the Year so far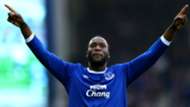 With the PFA announcing the 2016-17 Premier League Team of the Year on Thursday, we figured it would be fun to put together our Goal Fantasy Team of the Year so far. The players below were selected, as in our Team of the Week articles, by their point tallies but there is still time for others to make the final cut as the home stretch of the domestic season is upon us.
Download Goal Fantasy Football on iOS or Android now and win great prizes every week!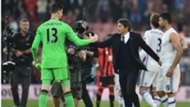 GK: Thibaut Courtois - Chelsea - 31 Games, 62 saves, 13 Clean Sheets = 126 Points
Much like the goalkeeping position in the PFA Team of the Year, this selection is somewhat underwhelming. Courtois does have the most points in the Goal game but is only one point ahead of both Hugo Lloris and Tom Heaton. The Belgian leads the league in clean sheets, but is third in goals allowed, and just 15th in saves. So, while Courtois has technically been the best Fantasy 'keeper this season, Heaton was definitely the best value at the position seeing as he's much cheaper than either the Chelsea or Tottenham options.
DEF: Kyle Walker - Tottenham - 29 Games, 6 assists, 13 Clean Sheets = 121 Points
DEF: Seamus Coleman - Everton - 26 Games, 4 Goals, 4 Assists, 10 Clean Sheets = 114 Points
DEF: Gary Cahill - Chelsea - 32 Games, 4 Goals, 13 Clean Sheets = 130 Points
DEF: Marcos Alonso - Chelsea - 25 Games, 5 Goals, 4 Assists, 12 Clean Sheets = 142 Points
Alonso has the most Fantasy points of all defenders by a wide margin. What makes it even more impressive is that the Spaniard did not even start a Premier League match until week seven. He and Hazard have formed a deadly partnership on the left for Chelsea that may just win them the title this season.
MID: Roberto Firmino - Liverpool - 30 Games, 11 Goals, 10 Assists = 157 Points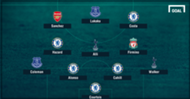 MID: Dele Alli - Tottenham - 29 Games, 16 Goals, 9 Assists = 183 Points
Alli was pretty good in the first half of the season, but in 2017 he has kicked things into another gear. With 10 goals and four assists since January, Alli has not only been the best fantasy midfielder over that period, but is the clear frontrunner for the PFA Young Player of the Year award… again.
MID: Eden Hazard - Chelsea - 30 Games, 14 Goals, 8 Assists = 165 Points
FOR: Romelu Lukaku - Everton - 31 Games, 24 Goals, 6 Assists = 201 Points
After years of streaky performances, Lukaku has finally put all of the pieces together this season. He leads the Golden Boot race with 24 goals, which is incredible considering the fact that none of them have come via the penalty spot. The Big Belgian has had the highest shot accuracy of his career this season (64%) and, at his age, that seems to be proof of improvement rather than just an outlier.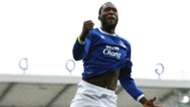 FOR: Diego Costa - Chelsea - 30 Games, 17 Goals, 9 Assists = 169 Points
FOR: Alexis Sanchez - Arsenal - 29 Games, 19 Goals, 10 Assists = 182 Points