World Cup
Explained: Why Japan's second goal against Spain was controversially allowed by VAR despite ball appearing to be out of play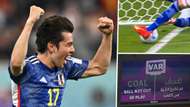 Certain angles appeared to show ball out of play
Goal given after lengthy VAR check
Germany out as a result of Japan's win
WHAT HAPPENED? Tanaka slotted home past Unai Simon following Kaoru Mitoma's cross but the ball appeared to be out of play. After a lengthy VAR check, referee Victor Gomes was eventually instructed to award the goal which ultimately resulted in a 2-1 victory for Japan. Germany, who finished third in the group, would have qualified for the knockout stages had Tanaka's goal been chalked off and the game finished as a draw.
In the blink of an eye, Japan turn things around! 🫣

Did it cross the line though...? 👀#ITVFootball | #FIFAWorldCup pic.twitter.com/Y8C5FdBSVK

— ITV Football (@itvfootball) December 1, 2022
After a VAR check this was confirmed as a goal for Japan 🇯🇵 pic.twitter.com/WDmJ1QJAdc

— FOX Soccer (@FOXSoccer) December 1, 2022
WHY WAS IT GIVEN? It was initially difficult to determine how exactly VAR reached the conclusion that the goal should be allowed, with global TV broadcasters displaying images that appeared to show the ball was out of play. However, alternative angles that haven't yet been released by FIFA led to the VAR team concluding that the whole ball hadn't actually gone out, and was overhanging the line. Indeed, despite the officials being adamant that they made the right decision, it is undoubtedly one of the most marginal calls of the World Cup so far that will continue to be debated for a long time yet.
STORY IN A PHOTO:
Top down and in play by the smallest of margins. pic.twitter.com/JGKeIt7DtS

— Chris Williams (@Chris78Williams) December 1, 2022
WHAT'S NEXT FOR JAPAN: The goal set up a dramatic 2-1 win that saw Japan advance to the knockout stages, where they will face Croatia, with Spain also advancing, with La Roja paired with Morocco in the last 16.