eSports
EA Sports troll Batshuayi by editing his FIFA 18 stats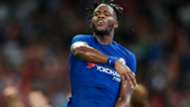 EA Sports has re-opened its debate with Michy Batshuayi about the Chelsea forward's FIFA 18 ratings by trolling him in a clever video.
The Belgium international has repeatedly tweeted the game's creators to complain that his overall score is not high enough, pointing torwards his goalscoring prowess in the Premier League and in the Champions League to show why he should have a better rating.
Ahahahaha everyone was waiting for me to come at @EASPORTSFIFA like ... pic.twitter.com/U8nQXimaY2

— Michy Batshuayi (@mbatshuayi) September 27, 2017
After helping the Blues to a 2-1 win over Atletico Madrid in midweek with a late strike, Batshuayi sent another message to EA Sports as a gentle reminder, but their follow-up response proved hugely popular with FIFA fans as they teased the 23-year-old once again.
We know what you're doing when you load up #FIFA18 for the first time Michy #ALL99 pic.twitter.com/ZTmzdVTRz0

— EA SPORTS FIFA (@EASPORTSFIFA) September 30, 2017
In the video, Batshuayi's virtual self is given 99 in every single statistic, providing him with an overall rating of 99 - the highest in the game.
FIFA 18 was released worldwide on September 29, and is available on Playstation, Xbox, Switch, and PC.