D. Alli
Doomed Dele? Alli facing moment of truth in Russia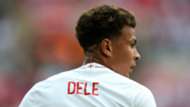 Theo Walcott. Luke Shaw. Ross Barkley. England are no strangers when it comes to selecting talented youngsters for major tournaments, only for it to become evident in the immediate aftermath that they will likely never reach their full potential.
In France two years ago, the eyes of the world would be thrust on Dele Alli. "England's fearless street footballer who can take Euro 2016 by storm" read one headline in The Guardian on the eve of the tournament. Aged 20 and with just a season of top-flight football to fall back on, in hindsight it can probably be filed away as another case of the English media thrusting too much pressure onto one so young.
Fortunately for the Three Lions, Alli has not gone the way of his predecessors in terms of losing his club place and along with it any realistic chance of lighting up a major tournament.
He does, however, arrive at his first World Cup in a position that would have been scarcely believable 24 months ago. Though he is set to start against Tunisia in Volgograd on Monday as the Three Lions get their tournament campaign underway, he is by no means assured of his position once Gareth Southgate's side come up against stronger outfits.
Strong performances against Nigeria and off the bench against Costa Rica in England's warm-up friendlies have convinced Southgate that Alli can be a difference-maker alongside Raheem Sterling and Jesse Lingard, as the trio look to provide for Harry Kane against the lesser lights in Russia.
But it did not go unnoticed that during the previous round of friendlies - against Netherlands and Italy - Alli was marginalised; limited to a brief cameo as a substitute in Amsterdam and benched against Italy. Though neither the Oranje or the Azzuri have qualified for Russia, they share far more similarities with the big beasts from Europe and South America when it comes to playing style, and as such it was certainly clear back then that Alli was no longer in Southgate's plans when it came to deploying a more circumspect formation.
Of course, three months is a long time in any profession, never mind football. But while Alli's raw figures of 14 goals and 17 assists in 50 matches during the 2017-18 campaign suggest he remains the same player as the ex-MK Dons teenager that burst onto the scene so suddenly three years ago, there is little doubt that he has stagnated somewhat in terms of his general performance levels, albeit with some explanation.
"I disagree that it has been a disappointing season for Alli," ex-Spurs and England midfielder Jermaine Jenas explained to  Goal  during the BBC's recent media day. "There are certain things people don't take into account when it comes to Dele.
"Number one is how young he is. The guy is younger than Harry Winks and we give Winks the freedom of being young and developing. He is a young player and he is still giving assists, he is still scoring goals. And in my opinion he was playing in a worse Spurs team this season than last year. Tottenham lost probably two of the best full-backs in Europe, with [Danny] Rose being injured and [Kyle] Walker going to Manchester City. [Toby] Alderweireld was injured for a large portion of the season too.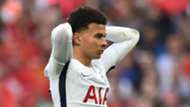 "Add that to the fact that they have moved away from home into Wembley. So the club and the team have had to deal with a lot. Which is why what they have achieved, finishing third, is brilliant. And Dele has been within that, he's had special moments. Yes, he has had a bit of a dip at times, a dip in form, but I would put it down to a kind of pattern within his play. He went through a little stage where he was giving the ball away quite a bit, but he got over it."
All reasonable arguments, but there has been a growing feeling in recent years that perhaps Alli is not learning from these dips in form. Still in big matches he will attempt to nutmeg opponents rather than play the simple ball - trying the outrageous when the ordinary would do.
The emergence of his own fashion label, the live video game sessions and the insistence on creating a new handshake, each more elaborate than the last, as means of celebration has even seen some begin to throw him in with Paul Pogba as player who might want to concentrate on his on-the-pitch performances rather than building a brand off it. There is a perceived arrogance in almost everything he chooses to do.
"He is the confident type, he has that arrogance about him to take the game and say: 'Alright, give me the ball, I can get the job done.' It makes me angry when I see people having a go at him because of this season where they will say: 'He has fallen well below,'" says Jenas.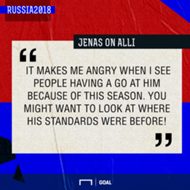 "Well, you might want to have a look at where his standards were before, because they were way higher than most players in the league. In my opinion, he was getting back to that towards the end of the season and I think it was another strong year for him."
Strong year or not, there is no denying that Alli is about to enter perhaps the most important month of his fledgeling career. Real Madrid are rarely linked with ordinary footballers, and Alli can hardly be criticised for having the ability to stand out from the crowd.
But with Southgate knowing his squad is largely limited when compared with those who have been tipped to lift the World Cup this summer, Alli might be better served going back to basics. Otherwise, that ever-growing England scrapheap will begin to edge into view.