Transfers
Club America sporting director claims Jonathan dos Santos used team to pressure LA Galaxy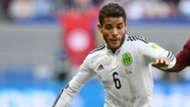 Club America sporting director Santiago Banos says rumors the club was working to bring Jonathan dos Santos in from Villarreal were true, though he now feels the player's interest may have been a negotiation tactic.
Sources tell Goal that Dos Santos has reached an agreement to join his brother, Giovani, with the Galaxy. The deal could be announced as soon as Thursday, but Banos feels it may not have happened as quickly were it not for the Mexico City club's bid.
Club America owner Emilio Azcarraga reportedly wanted not only to bring Jona in but also to make a move to sign Gio and offer the brothers' father a position on staff. Instead, the pair now will be working in MLS.
"I'm going to be frank. We practically had an agreement with him to be able to come in, but in the end he preferred to go to MLS," Banos said Wednesday on WRadio. "He used our offer to pressure the American team.
"We're hoping we can bring in a new signing this week."
Howard still chasing greatness at 38 
Banos said the team was very optimistic about getting Jona to join, but now wish him the best with the Galaxy, despite feeling a bit hurt by his decision.
America lost its first match under Miguel Herrera, the former Mexico coach embarking upon his second stint with the capital club, this season and is still trying to make a signing to boost the team. Las Aguilas were working to bring in Colombian midfielder Mateus Uribe but that deal may have fallen through, leaving central midfielder Guido Rodriguez's arrival from Club Tijuana as the lone big-name transfer so far this summer.