Premier League
Chelsea will take months to reach their best, says Sarri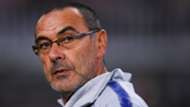 Maurizio Sarri is concerned that Chelsea might struggle in their first few games as he implements his ideology on the team, having had less than a month to work with his new players.
The head coach's problems have been compounded by late arrivals coming back from the World Cup, with senior players such as Eden Hazard, Olivier Giroud, N'Golo Kante and Gary Cahill having only returned this week.
There was also the issue that his late appointment saw either Antonio Conte or coach Eddie Newton lead training sessions with the first team in the first week of pre-season, as Chelsea took part in a long legal battle to release Sarri from his previous contract with Napoli.
The new boss has been playing catch-up, often opting for double training sessions, but thinks that results could suffer in the short term and he has communicated that to his superiors at the club.
"They know it. They know it very well," Sarri said, as he addressed what the board will think about any early-season struggles. "I hope that the second part of the season, for us, will be very good with a lot of points. I expect in the first part of the season some problems.
"At the moment, we are not at the top of our potential. We did a pre-season and what can I say? It was unusual, maybe. So, we are not at the top. I hope to be at the top of the potential of the squad in one or two months, but I don't know. Sure now, we are not at the top.
"[I expect a problem] with the results. Maybe the performances in the first part of the season will not be in line with the potential of the squad. I think you have to wait for a couple of months [to see my best football]. You have to wait."
Chelsea also travelled to Australia and back as they played a pre-season game in Perth, soon after Sarri arrived to train his squad. The club are already looking into how to improve upon their pre-season schedule and will aim to make it fit Sarri's plans better than the situation he encountered upon his arrival.
The 59-year-old former Napoli manager says that next season's preparations with be very different, as he aims to make his mark on the Stamford Bridge club .
"[I will change pre-season] completely, I think. If I can, completely. I don't know. I arrived in the middle of July, so the problem was there. I have to accept it completely, but I think, for the future, it will be better to change it.
"But I think that my perfect programme of pre-season is not completely in line with the programme of the club. So, we have to arrive at a compromise."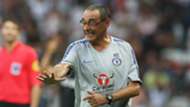 Pre-season ahead of the opening match with Huddersfield Town has shown that finishing chances remains a problem at the club and Sarri spoke about how he will get his players to improve, as he finalises his squad with the transfer window having closed.
"It was the same in pre-season this year, I think," he added about the lack of goals last season. "We have to play at another speed. The offensive phase may be a problem at this speed. If we are able to play at another speed, maybe scoring will not be a problem for us. But, at this moment, at this current speed, it may be a problem.
"No, [it isn't because of] Conte. He plays another football. The players in this moment need to think what to do too much, and so the ball is not moved at the right speed, material and mental, at this moment. They have to think too much.
"In Naples we played at great speed, ball forward, ball back, with continuity, with great speed with the strikers. So, it was fun for the supporters. And useful for the results, I think. We made the record of the club in the first, in the second, in the third year.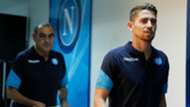 "[We got] 91 points in the last season. On 23 of the last 25 Serie A [seasons], 91 points was enough to win it. So, it was a bit unlucky, I think. I have to adapt myself on the characteristics of these players, and not vice versa."
Huddersfield may not be familiar opponents for Sarri, who has spent his entire career in Italy before accepting the move to west London.
The manager is having to get used to preparing to face a whole new group of clubs, but he spoke about how he is adjusting to his new rivals.
"I saw the last three matches of pre-season, and then I saw one match of last season against Liverpool, because Liverpool played 4-3-3 in that period. I think it can be a very difficult game because they did a very good pre-season, and I know that in the last season, they started really very well.
"They won their first three games in the last Premier League season. So, at this moment, they can be a very dangerous opponent. I have to do it week by week [to learn about the other teams], I think. In pre-season I was really very busy with other things, so I have to study week by week.
"I started to study with Huddersfield. I respect them very much. In this moment, they are a very dangerous team."