Baichung Bhutia
Former India captain Bhaichung Bhutia attending C-license course in Siliguri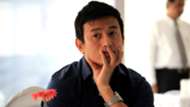 Legendary Indian footballer Bhaichung Bhutia, who is also the second highest goal-scorer for the nation, is attending the C-license coaching course in Siliguri starting from Sunday.
The course, organized in association with the Football Players' Association of India (FPAI), is being supervised by Mariano Dias, who was the assistant coach of the India national team for a brief period earlier this decade. 
Bhutia had passed the D-license course a couple of years back, when it was conducted by the erstwhile Technical Director of the All India Football Federation (AIFF) Scott O'Donell at the East Bengal ground. Former India internationals Renedy Singh, Sandip Nandy, Abhijit Mondal and CS Sabeeth were among the other participants of that training program.
The Sikkimese Sniper was axed from the AIFF Technical Committee earlier this year but was soon reinstated as the adviser to the Federation president Praful Patel. The Padma Shri awardee had an illustrious playing career spanning across almost two decades and had played for three foreign teams - Bury FC, Perak and Selangor-  becoming the first Indian to achieve this feat.
Co-incidentally, Bhutia had locked horns with Dias as a coach earlier while being temporarily in charge of United Sikkim FC, a club co-owned by him. On 2nd December 2012, the hill side had played a goalless draw against Churchill Brothers in an I-League home match, where Mariano was serving as the head coach.
Among the top 30 Indian footballers of all-time, only PK Banerjee, Mohammed Habib and Arun Ghosh have had a successful career as a gaffer and it would be interesting to see whether Bhaichung can follow their footsteps.