Canada
Akindele: 'It's a special time' for Canada's national team
FRISCO, Texas — With Canada in a pattern of underachieving in recent years, it seemed the enthusiasm that should've been surrounding the national team was missing.
After all, this is a country where the game is growing, where three MLS teams have put down serious roots toward building academies, where grassroots support has helped lead to a nascent pro league and the women's team regularly boasted of success both on the field and in fan and marketing support. Despite that, the men's team has struggled for results, sitting below 100 in the FIFA rankings and out of World Cup qualification.
But with several young players continuing to break through and new coach Octavio Zambrano beginning his process, Canada attacker Tesho Akindele says there's once again a buzz around the Reds.
Zambrano wants Bernier to keep playing 
"It's always just great to have a chance to represent your country," Akindele told Goal. "I think right now it's a special time with the new coach. You always want to put your best foot forward and first impressions are important, so I'm looking to make a good first impression at this camp."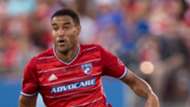 Zambrano has been busy since being named Benito Floro's replacement in March. He watched the senior team's draw with Scotland before taking over for a U-23 doubleheader in Qatar. The coach kept former interim Michael Findlay on as an assistant and has a diverse coaching staff, which Akindele said he was in communication with after an introductory message from the Ecuadorian boss. 
Akindele is part of Zambrano's squad to face Curacao this month, a group that includes several players who like the Calgary-born Akindele have been in the Canada team before. But Zambrano also could hand debuts to players like Juan Cordova and Andres Fresenga, defenders based in South America. The blend and Zambrano's open-doors approach to finding players is something that only will serve to boost the team. 
"I view us as improving," Akindele said. "There's a lot of young players coming from all over the place, Europe and other leagues, that are playing quality minutes and they're already professional at a young age which is something I don't think Canadian players have been able to do for most of the history of the team, (aside from) maybe one or two. So, it's kind of cool that we have so many young guys coming in with actual experience."
The friendly could be important work ahead of the Gold Cup, a tournament Canada won in 2000 but has not only failed to get out of the group in the last two tournaments but also failed to find the back of the net. For a team with Akindele, Orlando City forward Cyle Larin and TFC attacker Jonathan Osorio in its ranks, it's an embarrassing mark.
Arena: U.S. saving no one for Mexico
"At least the first goal has got to be to get out of the group - before that even score a goal," Akindele said. "The last two Gold Cups we haven't scored a goal, and that's just below expectations, of course, if you look at the teams we've had. So, score a goal first and then get out of the group. One step at a time like that."
Akindele is set to stay with FC Dallas for games against the Portland Timbers on June 10 and the Vancouver Whitecaps on June 17 but will join up with the national team for the midweek friendly against Curacao. Despite the frequent travel, the 25-year-old is taking inspiration from a fellow MLS player ahead of the trips.
"I think at this point I'm pretty used to flying. I don't think it'll affect me too much," he said. "I remember (Sebastian) Giovinco he came back from Italy (in 2015) and scored a goal, like, the same day. Nobody can have any excuses after he did that. I think I'll be all right."
If so, he could be part of an exciting renaissance for Canada, a national team that could generate plenty of buzz during the next several years.