Manchester City
Aguero: Man City have the energy to win back-to-back titles
Manchester City striker Sergio Aguero sees no reason as to why the Premier League champions cannot become the first club in a decade to win consecutive crowns in the top-flight of English football.
The Argentine, who is enjoying a stellar season so far for Pep Guardiola's side, has been a member of all three of their first-tier triumphs in the last decade, memorably scoring an injury-time winner to seal the title against Queens Park Rangers on the final day of the season.
But despite their success, City have been unable to retain their title in the immediate subsequent campaign, an arguably glaring omission on an otherwise impressive record at the Etihad Stadium.
It has been a decade since any side has managed to capture the crown more than once on the trot, when Alex Ferguson guided Manchester United to the top spot three times in a row between 2006 and 2009.
But Aguero is convinced that City can break their hoodoo to keep hold of the Premier League trophy once more this season, highlighting that if the team can retain focus, they can deliver success again.
"It's not easy to win the Premier League again," the 30-year-old told Sky Sports, "to do it back to back.
"But in the dressing room I see the same energy, the same attitude as last season in my team-mates, and that makes me feel confident.
"So if we keep doing the same things, keeping focus, I think we have a big chance to win it back to back.
"We know our style of play, how to press, the build-up and all of the movements because we have been playing together for a long time, and we have almost the same players as last season.
"It's going to depend on us, and if we manage to keep our focus on the goal, we can make it happen."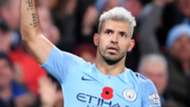 Aguero has been in excellent form so far this campaign, scoring 11 goals in all competitions, and has credited his fine performances as being down to an arthroscopy he had on his knee in April ahead of the World Cup this year.
"I had been suffering for a long time, had a lot of medical treatment and physio here at the club," the forward noted. "Then at the end of last season I decided to go for surgery before the World Cup.
"Since then, I feel great, I don't feel pain at all, and that's probably why I'm enjoying it more and feeling fitter.
"Luckily I am doing well and Pep is happy. I try to do the things he wants, and help the team, I'm obviously the first guy who starts the pressing and that's why I can do it more often.
"I feel really happy now, and hopefully I don't need to think of any more injuries and can enjoy my last few years here at the club, and especially winning trophies."
City return to action following the international break on Saturday when they travel to London Stadium to face West Ham, who coached by former City manager Manuel Pellegrini.