A. Sánchez
Sanchez should never have left Arsenal and must consider Man Utd exit - Pires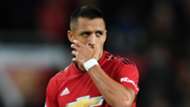 Alexis Sanchez has been told he "had to stay at Arsenal", with Robert Pires admitting that "complications" at Manchester United may force another move in January.
The Chile international made his way through the exits at Emirates Stadium during the last winter window as his contract in north London ran down.
Jose Mourinho won the scramble for his signature, with the 29-year-old making his way to Old Trafford on a lucrative contract.
He was considered to be a major coup for the Red Devils but has struggled for form and is currently nursing an injury which is preventing him from rediscovering his spark.
Pires believes leaving Arsenal was Sanchez's biggest mistake, with the former Gunners star telling El Mercurio: "Alexis was very good, he's an excellent footballer, but I also got to know him as a person and I can say that I loved knowing him, he is a friend. He stands out for his professionalism and that helped Arsenal to win several titles.
"Honestly, it surprised me. For me, Sanchez had to stay at Arsenal, where he was one of our stars.
"I don't know if he could say no to United, but I think the style of play of the London club suits his performances better. But you have to respect his decision."
Having failed to heed that advice, Sanchez is now being urged to consider moving on again.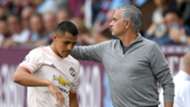 Pires believes Mourinho is the wrong manager for him, with it difficult to understand why the South American opted to link up with the Portuguese rather than making his way to Manchester City to work under Pep Guardiola.
The Frenchman added: "Yes, he's going through a complex moment. The relationship with the manager is always important, but it's notable that there are complications between Jose Mourinho and him.
"When you're a United manager and you have players like Paul Pogba and Sanchez, you have to take care of them, because in the end the only important thing is for the team to win.
"When there are problems, the most important and complicated thing, at the same time, is to sit down to talk and say things face to face.
"Sanchez doesn't deserve to be on the bench or stay at home. We'll see if he finds a solution in January, because he is not playing and he has to do it, since he is a wonderful footballer.
"Mourinho and Josep Guardiola are two coaches who know how to win and conquer titles, but now, City's way of playing is higher than United's and it could be that if Alexis went to Pep's team his situation would be different."