Selangor
Astafei warming up to task of replacing Andik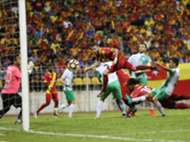 ---
 BY       OOI KIN FAI      Follow on Twitter
---
Victor Astafei has big shoes to fill coming into Selangor as a replacement for Andik Vermansah. The Indonesian has been a firm fan favourite in the few years that he has been with Selangor but Astafei started on the right foot and could very well be Selangor fans' next favourite.
In the second round of the 2017 Super League, Astafei came on in the second half against Melaka United and managed to score the equalising goal to help Red Giants to secure a valuable point and maintain an unbeaten start to the new season. His header from Raimi Nor's corner kick puts the cap on a encouraging start to life at a new club.
GALLERY: Selangor vs Melaka United
For the Romanian who has largely played in his home country prior to this move, Astafei is more than happy to be in the shadows as long as he knows that his contributing to the team and counts everything else as an extra.
"I don't have any personal targets. Every match that I play, I want to help the team. If you're a good player working hard and helping the team, the goals will come. Every goal that I score is a bonus," said Astafei on the club's website.
'Melaka are still a work in progress' - Williams
The 29 year old winger has a knack of scoring in his first match for his new clubs and as such, wasn't suprised by the one he scored against Melaka but was nevertheless jubilant to have been able to repeat the feat under P. Maniam's guidance.
"This isn't the first time that I've scored on my debut but it was still a very proud and happy moment to have been able to do it with Selangor as well," added Astafei.
Despite only being with the team for a short period, Astafei is silently pleased with what he has seen thus far and warns that the only way for Selangor is up. His determination and attitude could well rub on to his team mates the more they train and play together.
"I was happy to have scored but at the same time it was only a draw and not a win, so it was ultimately disappointing result. However this is only the beginning of the season and we still have time to improve from game to game. I'm sure that we will be better as a team because Selangor have good players," exhudes Astafei
Selangor 1-1 Melaka United: Positive away point for MUFC
For a team that has been beseiged with plenty of pre-season problems, it has been a rather more positive outcome for the team at the start of this league season. With the experience of the likes of Victor Astafei in the ranks, perhaps there will be something for Selangor fans to cheer for come the end of this season.