Primera División
Guardiola warns Barca doubters: You'll be proven wrong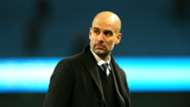 Pep Guardiola has warned Barcelona's doubters that they will be proven wrong.
Barca were beaten 4-0 by Paris Saint-Germain in the Champions League last-16 earlier this week, a result which has provoked much analysis of the Catalan club's current problems.
Barca shortlist three to replace Luis Enrique
Head coach Luis Enrique has come in for plenty of criticism and there are now question marks over whether he will continue at Camp Nou beyond the end of the season.
But Guardiola, who coached Barca between 2008 and 2012, believes they are the one team that can overturn a four-goal deficit, and that they remain the best team around.
"Barcelona are still the best team in the world," he insisted. "[The result] is always a surprise because they are so, so good, but in football anything can happen. There's a lot of competition, the opposition are so strong.
"You can win heavily or you can lose heavily, that can happen, it's happened to me, but there are 90 minutes to go and anything can happen."
Asked about their chances of turning the tie on its head with a second-leg comeback at Camp Nou on March 8, the Catalan replied: "If there's a team who can do it it's Barca, with their mentality.
"It's normal that there are so many things said because they are a team that has dominated world football for 10 years and when you have dominated world football it's normal that the people expect you to keep up that level.
Messi in limbo as Barca wait on contract
"But my advice, knowing Luis [Enrique] and the players a little, is not to talk too much, because they will be back and prove you wrong.
"They've done it over the years, dominating football for 10 years, and they continue to be the best team in the world."