Africa Cup of Nations
Grant wants Caf to abolish Afcon third-place match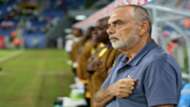 Ghana coach Avram Grant claims the third place match of the Africa Cup of Nations between the two losing semi-finalists must be abolished in the future since it is 'unnecessary'.
The Black Stars were in a hunt for a fifth title, a first since their 1982 triumph, but were knocked out by a resilient Cameroonian side in a 2-0 defeat on Thursday.
Grant's men travelled from Franceville to Port-Gentil on Friday and couldn't have a full training session for Saturday's third-place playoff against Burkina Faso, who lost on penalties to Egypt in the other semi-final game.
"To be honest, I don't like this game and I don't want to play it but we have to play. It is impossible for any side to play in less than 48 hours after a defeat in the semi-finals," Grant told Montie FM.
"It has never happened anywhere in the world. Yesterday, we were on the flight all day and couldn't even train since we arrived [in Port-Gentil] very late with everyone tired too. So I thinking it's a game that is unnecessary and must be cancelled in the future but we have to play it now," he added.
The Black Stars were defeated by Mali at this stage of the competition in 2013, after losing to Burkina Faso in the semi-finals.