MLS
Yedlin returns home to train with Seattle Sounders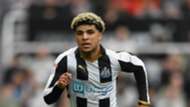 Newcastle defender DeAndre Yedlin is back home in Seattle, training with the Sounders following a successful season in the Championship. 
In his first season with the Magpies, Yedlin helped the club win the Championship and secure promotion back to the Premier League one season after being relegated.
MLS Spotlight: Nikolic becoming a star with Fire
"When I first came, [head coach Brian Schmetzer] said, 'You're welcome back whenever you want,'" Yedlin told the Sounders official website. "It's a great feeling, I know I always have a home here. It's my first club and it's my favorite club. It's my hometown club. Seattle will always hold a special place in my heart, and I'm excited to be back."
We're excited to have a special guest at training this week.

Welcome home, @yedlinny! pic.twitter.com/NYFwZZ5ob7

— Seattle Sounders FC (@SoundersFC) May 23, 2017
Yedlin left the Sounders after the 2014 World Cup to join Tottenham, where he made just one appearance. A loan at Sunderland in the 2015-16 season helped the right back secure regular playing time in the Premier League, which he will hope to achieve again next season.
The 23-year-old played for the Sounders in the 2013 and 2014 seasons, making 62 combined regular-season and postseason appearances. 
"It's nice to see some old faces and some new ones as well," said Yedlin. "The team has changed a bit since I've [left] here so it's nice to meet those guys as well. Being back here brings back really good memories."