Ghana
Why Kwesi Appiah is least concerned with USA defeat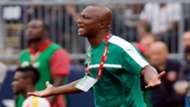 Ghana coach James Kwesi Appiah says his objectives were met despite watching his side slump to a 2-1 friendly reversal to the USA on Saturday.
Captain Asamoah Gyan scored for the Black Stars after missing a first half penalty, but Dom Dwyer and Kellyn Acosta netted to secure bragging rights for the Stars and Stripes at Hartford, Connecticut. 
The match follows Wednesday's defeat to Mexico in another exhibition game.
"The vision should be going out there to get a win, but the bottom line is that you can't just jump into a winning team," Appiah said.
"You need to build; it's a process and the only way we can do that is [playing] such friendly games. 
"Playing high teams like the US, that's the only way you can assess a player and whether he deserves to be in the team or we should give him some time [to get better]. 
"The win is always important; if it comes fine. For me, even if we had won 10-0, I'm looking at the individual player performances. 
"For me, that's the most important thing."
Ghana's recent games form part of preparations for their 2018 World Cup qualifier against Congo in August.
Following a faltering start, which sees them five points adrift of group leaders Egypt, the Black Stars need to win their remaining four games to stand a chance of reaching Russia 2018.