Manchester City
Who is Manchester City's Player of the Season?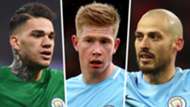 Given five Manchester City players made the official PFA Team of the Year and several others can feel unfortunate not to be included, it is almost impossible to narrow down the Premier League champions' best performers to just three.
Well, it would be easy to go with the three that have also been nominated for the PFA Player of the Year award, but that would be too easy.
The vast majority of Pep Guardiola's squad have had impressive seasons, which obviously helps to explain their record-breaking campaign and their huge points lead at the top of the table.
You could pick an entire first XI out of the players who can claim to have enjoyed the best season of their career - Ederson, Kyle Walker, Nicolas Otamendi, John Stones, Fabian Delph, Fernandinho, Kevin De Bruyne, David Silva, Raheem Sterling, Sergio Aguero, Leroy Sane.  
That, as much as anything, illustrates how competitive a field it is when it comes to naming just three.
---
3. EDERSON
---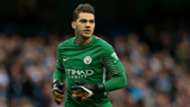 Many of the players mentioned above could justifiably claim third place in this particular list and indeed it was a very close call.
Ederson may not be the most obvious candidate but it is important to remember the pressure that was put on his shoulders when he first arrived last summer, both in terms of Guardiola's demands and expectations/scepticism among fans and media.
If a goalkeeper as trustworthy and experienced as Claudio Bravo could have such a disappointing season in goal for City, there could have been no guarantees about this then-23-year-old Brazilian who had played less than two full seasons for Benfica, including just a handful of Champions League games.
On top of that, having commanded a transfer fee of roughly £35 million, there were plenty of people who would have piled in on Ederson, and his manager, had things turned out badly. Especially after a mistake in his very first game, a friendly against Manchester United in Houston.
Had he failed, he would have been pilloried, and City's season would not have been possible.
But Ederson has barely put a foot wrong all season. And it has been his feet that have done the talking; his distribution has been a revelation, and the fact he can play it short or very, very long has kept the opposition on their toes over the past eight months, giving City plenty of options to build their attacks.
His ability to stay calm even when pressed, and even when so far out of his box, is something else. 
He has not faced too many shots this season but he has made some vital interceptions at times. There have been other occasions when he has looked fallible, particularly in games against Liverpool (not the one where he was kicked in the face) but nobody can claim to have had a perfect season.
Given the pressure on his shoulders, the fate of Bravo before him and, in its own right, his fine performances in his first season in a new country, it is hard to look past Ederson for a place in City's top three.
---
2. DAVID SILVA
---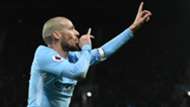 There is an argument that Silva should be No.1 on this list, and that he should be even more in the reckoning for the PFA award, given both the level of his performances this season and the testing personal circumstances that would have proven to be a distraction for many.
Silva has been undoubtedly one of City's key men this season and to make that fact even more impressive he has been flying between Manchester and Valencia for the last four months to look after his young son Mateo, who was born extremely prematurely, with his wife Yessica. 
The 32-year-old missed a handful of games around Christmas and the New Year as a result but has been as reliable as ever, if not more so, when named in the side.
In fact, he has probably had the best season of his career. The numbers alone (8 goals, 16 assists in all competitions) are already up there with his best, but in terms of his performances and his influence on the team he has reached new heights this season.
---
1. KEVIN DE BRUYNE
---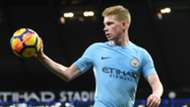 It looks like De Bruyne will miss out to Mohamed Salah for the PFA award, which is likely to spark plenty of debate when the prize is handed over on Sunday evening.
In any case, De Bruyne has been City's best player this season and of course arguably the best in the league.
The 26-year-old has dovetailed brilliantly with Silva this season and their performances - the Belgian's in particular - have made them the heartbeat of this most impressive of teams.
De Bruyne arrived at the club in 2015 as more of an attacking player but under Guardiola he has become an all-purpose midfielder who can dictate games on his own. 
His range of passing has been on display for much of the season, and has led to some stunning assists. His goals have been breathtaking, too, especially the ones with his "weaker" left foot (particularly those against Chelsea, Tottenham and Leicester). He almost always chooses the right option when in possession, whether with a pass, shot or dribble, and when out of it he puts in the hard yards, regularly running more than 11 kilometres per game. 
He can mix it, too; many players have tried to kick him out of the game this season but he has looked indestructible. In the cases of Crystal Palace duo Damien Delaney and Jason Puncheon, they only succeeded in ending their own season after lunging in on the Belgian.
De Bruyne can influence a game in so many different ways and as a result he is probably now the most important player for this team, which is some statement given David Silva's influence over the years, and the one-man-team accusations around 2014 when Sergio Aguero was banging in the goals.
He may not get the PFA award but his role in City's most dominant of title victories should not, and will not, ever be forgotten.