West Ham United
West Ham unveil new black and blue 2017-18 away kit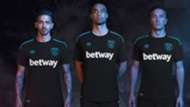 West Ham have unveiled their new black and blue away kit for the 2017-18 Premier League season.
The jersey is the first time the club will be wearing a black strip, and will be used next season as Slaven Bilic's side look to improve on their inconsistent campaign in 2016-17, where they finished 11th.
Why Chelsea's revolution works
Hammers midfielder Mark Noble is looking forward to wearing the new jersey - and has even given fashion tips on how to wear it in public.
"It's a really smart kit! I like the dark-coloured kits and you can wear this one with a pair of jeans as easily as when you are playing football with your mates," Noble told the club's official website.
"I think this black kit looks powerful, it's a really nice kit and I'm certainly looking forward to wearing it in front of our fantastic travelling supporters.
"We've had so many memorable away games down the years and the fans who follow us are always fantastic, especially in the big cup matches at places like Tottenham and Manchester United. I remember winning at Spurs in 2013 and the scenes in the away end were amazing – that's what it means to our away fans when we get the result!
"I remember being in the away end myself as a kid and it was always brilliant being part of it all. You can really hear our fans everywhere we go and when we're winning, sometimes it feels like we're playing at home!"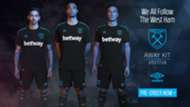 The Away kit is priced at £55 for Adult sizes and £45 for Junior sizes and is on sale from Thursday, June 15.