CAF Confederation Cup
Usman Abdallah insists no distraction in Enyimba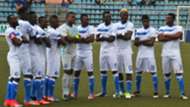 Enyimba coach Usman Abdallah has asserted that he is doing his best to focus his players' minds on the Wednesday Caf Confederation Cup tie against Williamsville AC of Cote d' Ivoire.
The People's Elephant are third in the group with three points from two matches and they need a win against Les Guepes to nurture the ambition of advancing beyond this stage.
The present travails to Nigerian football administration meant that the players' attentions could be divided ahead of the crunch fixture but Abdallah hinted that he has devised means to enable his players stay focused on the task at hand.
"It is true that the present crisis in Nigerian football has a way of distracting the players but we have got that all covered because we have given them tasks that won't make them have time to think about something else," Abdallah told Goal.
"We have told them the importance of the match and they have told us that they won't allow anything to disrupt their preparations for the game. They have assured me that they are only thinking about what they must do to beat our Wednesday opponents. They are still not happy at the way we were beaten by CARA Brazzaville and they want a good result against the Ivorians.
"It is not ideal that we have put ourselves at this kind of corner at this time. We have experienced FIFA ban in the past and nothing positive came out of it. We must do whatever it takes to ensure that we are not banned. We want to play our matches not been bothered by crisis talks.
"It has not been easy putting the players off the issue but we know it is what we must do and that we have done. We want our players to play the game not bothered about whether their efforts will become nothing if FIFA clamps down on us."
The gaffer, however, revealed that he does not know much about the Ivorians but that he is exploring all avenues to dissect the team before the midweek game.
"We might not have known much about our opponents but we are looking at various avenues to piece up the little we have gathered about them," Abdallah continued.
"We are not going to dwell on any excuse at all. We want to do our assignment well and ensure that the maximum points are ours on Wednesday. We know our position in the group and we are aware that we cannot afford to stumble again after the experience we had in Brazzaville."