Australia
Unbeaten run over for Gersbach at Rosenborg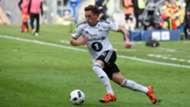 Socceroos full-back Alex Gersbach has suffered his first defeat of the season with Rosenborg after the Norwegian champions lost 2-1 at home to Tromso.
While Rosenborg remain on top of the table and had put together a 10-match unbeaten run to begin the 2017 campaign, the loss to ninth-place Tromso will no doubt add fuel to the fire of criticism flickering around Kare Ingebrigtsen's men.
Gersbach told Goal last week that he was relishing the pressure at Norway's most successful club.
The 20-year-old returned to the starting XI for the first time in a month on Wednesday and completed a full shift but it was an unhappy night for the Australian as Rosenborg gave up a lead at Lerkendal Stadion.
The midweek match played the night before Norway's national day is one of the biggest fixtures of the season and over 21,000 watched Tromso midfielder Aron Sigurdarson consign Rosenborg to defeat with an 85th-minute winner.
"We must accept to lose a football game, so we will still stand tall in the train [back to Trondheim] in the morning," Ingebrigtsen told Norwegian newspaper VG after the game.
Bendtner key to Rosenborg's UCL hopes
Rosenborg's star recruit Nicklas Bendtner had a late chance to secure a draw but his shot from a tight angle hit the side netting.
"We chased two extra points, and it means that we copped a blow today," Ingebrigtsen said. 
"Against Brann, we tried the same thing, and we succeeded."
Gersbach has made seven appearances in all competitions for Rosenborg so far this year and will be hoping his performance against Tromso was enough to retain a starting spot as he looks to return to the Socceroos fold next month.
Rosenborg will look to bounce back against Lillestrom on Saturday in a match that will commemorate the former's 100th birthday.