Dušan Tadić
Tadic: Serbia players will play with a broken nose or a broken leg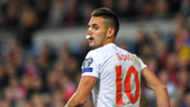 ---
EXCLUSIVE
---
Dusan Tadic believes that Serbia have the fighting spirit required to qualify for the World Cup - and even claimed that a broken leg would not stop his international team-mates.
NxGn: The best U19 talents in the world
The 28-year-old midfielder himself played on with a broken nose after Wales' Neil Taylor accidentally kicked him in the face during a 1-1 draw last year, and while he was praised by his country's fans for doing so, he claims it is nothing that his team-mates would not have done.
"The reaction to me playing on with a broken nose was very nice!" Tadic told Goal. "That is the positive part of being Serbian - we don't have so many facilities in Serbia and everything for young players, but what they teach you in Serbia is to be tough. 
"When I was younger, all my coaches taught me to be tough and it doesn't matter what happens, whether you broke your leg or something else, you know you need to fight for your team. This is a very good thing in football. They teach you to be tough.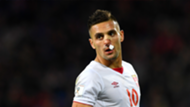 The Southampton man has been in fine form for his country and he has been involved in all of their last 10 goals - with six assists and four goals - as they prepare to face Georgia on Friday. 
"I am in my best form for my country because of the coach. Slavoljub Muslin has given me a lot of freedom and he has put me in the right position so I can make the difference. I appreciate that and I am ready to give my best in training and out of training for him," he said.
"I know that I can bring goals and assists, and the coach requires that. He is trying to put me in those dangerous situations for the other team, so I can show my qualities. I think that our chances are very good. 
Mbappe can dominate like Ronaldo and Messi
"We are confident, we are playing well with the right players and Muslin is making everyone sharp. We are happy and hopeful about going to the World Cup and we are doing everything to achieve that."
Tadic grew up in Backa Topolo, formerly of Yugoslavia, now in Vojvodina, Serbia. He cites Zinedine Zidane, Ronaldinho and Ronaldo as his footballing inspirations and he admits that he used to imitate them as a youngster. 
"Zinedine Zidane and Ronaldinho were my favourite footballers," he added. "Zidane was elegant, his movement was perfect, everything he did was perfect. It was a joy to watch him.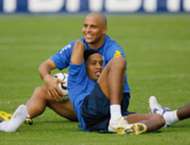 "Ronaldinho, him and Ronaldo were my heroes. They were the first to do some nice tricks and this sticks in your mind. They were on a different level and everyone enjoyed that and I tried to watch them play a lot. They were at the very top level. I always tried to do some of their skills, it was fun.
Now 28-years-old, Serbia looks to Tadic for inspiration and creativity but he admits that it was hard to break through in his position, in a country that is famous for producing great defenders like Nemanja Vidic and Branislav Ivanovic. 
"We have the cliche that we are a very powerful national physically but it is true that we don't have the best structure," he continued. "It is hard for players to make it, especially compared to England - their youth players have everything they need to make it.
"If we had this in Serbia then that would be great, but this is normal and you have to fight for yourself. I think it is very hard to break through as an attacking midfielder in Serbia, it is easier to succeed as a defender than as an offensive midfielder because there are a lot of players and they expect you to make defence and, if you don't make an assist in 50 minutes, it is a crisis or something like that. This is normal.
"I played with a lot of big talents and good players but you had to fight for yourself to succeed and that's the only way you can be. I always liked sport and I played football all day. I liked to play basketball and tennis too, I enjoyed a lot of different activities."
Serbia lie second in their 2018 World Cup qualifying group, with eight points from four matches. The Republic of Ireland lead the way with 10, while Wales are on six.