Premier League
T-Team and Perlis' six-point deductions slashed to three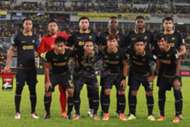 ---
BY        ZULHILMI ZAINAL       Follow on Twitter
---
M-League organiser Football Malaysia LLP (FMLLP) has reduced Super League side T-Team and Premier League side Perli' six-point deductions to three, it announced on Thursday evening.
The six-point deduction had been handed early this month for the Titans and Northern Lions' failure to settle their players' wages on time.
Along with the points deduction, T-Team and Perlis were also handed a transfer ban in the current mid-season transfer window.
But according to FMLLP, the deduction has been reduced after the two sides appealed against it, and produced the necessary documents, albeit after the initial March 31 2017 deadline had passed, to prove that the arrears have already been settled.
The transfer ban too has been lifted.
The same result has also been handed to Premier League side Perlis, according to the statement.
With the points deductions reduced to three, the Titans are now seventh in the standings on 16 points. The Northern Lions meanwhile will move up to 11th with six points, but still in the relegation zone.
In the same statement, FMLLP added that the appeal made by another Premier League side ATM, who have received the same punishment, is still under investigation.
However, no update was given on Kelantan, another side to have been handed the punishment by FMLLP, pointing to the notion that the Red Warriors have not appealed against the decision. Strangely enough, they have made changes to their roster since the current transfer window was opened.