Liverpool
Salah, Coutinho and Co to blame for Liverpool struggles, not defenders - Ince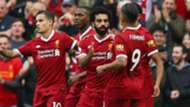 Liverpool should be blaming their inconsistencies on their forwards, not their defenders, according to Paul Ince.
The Reds have once again found clean sheets hard to come by this season, with their frailties at the back being exposed on a regular basis.
Liverpool 8/15 to keep Newcastle clean sheet
Jurgen Klopp has faced criticism for failing to address those issues during the summer transfer window, although the German has maintained that the right players were not available.
Ince feels too much is being made of the defensive leaks, with those misfiring at the opposite end of the field just as culpable for the struggles to generate momentum on Merseyside.
The former Reds midfielder wrote in a column for Paddy Power: "I really sympathise with Jurgen Klopp, because he's brought a philosophy into Liverpool that sees his team create chance after chance consistently.
"They're brilliant going forward and, the thing is, if his forwards don't take those chances they put pressure on the back five or six.
"If they'd have taken a few more of those chances this season – including against Spartak in the Champions League where they drew 1-1 – the game would've finished three or 4-0. And if they'd been better in front of goal, no one would be moaning about their defence.
"There's got to be more onus on those forward players for not getting the ball in the net and being more clinical."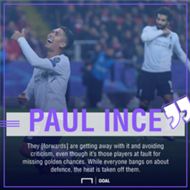 Ince added: "[The forwards] are getting away with it and avoiding the criticism, even though it's those players at fault for missing golden chances.
"But while everyone bangs on about the defence, the heat is taken off them, and I feel for Klopp, because he can't put the ball in the back of the net for them.
"Every time Liverpool concede a goal at the minute everyone goes on about their defence and I think it's a bit unfair. Klopp will get that right, just like he has the forward line.
"But there could also be an issue with protection from the wingers and some of the midfield players too, defending should start right from the front.
"If you allow balls to go into the box willy-nilly, with wingers not doing their jobs then, yes, it's going to end in goals. And if you haven't been finishing chances at the other end, then obviously, it's going to result in losses."
Liverpool have collected just one win from six fixtures since the last international break and remain stuck on two clean sheets for the season.
There is another rest period on the domestic front approaching, with the Reds getting one final opportunity to put things right before that break when they travel to Newcastle on Sunday to face former boss Rafa Benitez.