SAFF Championship
SAFF U-15 Championship 2017: India Colts beat Nepal to be crowned champions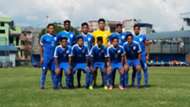 The India U-15 National Team defeated host nation Nepal 1-2 to clinch the SAFF U-15 Championship title in the final that took place at ANFA Complex, Lalitpur in Nepal.
The South Asian Football Federation (SAFF) Under-15 Championship for boys kick started on August 18, 2017, at Nepal. As many as six nations participated in the tournament where each of the sides was divided into two pools comprising three teams each.
The SAFF Under-15 Championship is a continuity of the earlier SAFF Under-16 Championship. The motive behind the change is to allow teams to be better prepared for the Asian Football Confederation (AFC) Under-16 qualifiers to be held later this year.
Though the tournament is for the Under-15 category, India fielded its Under-16 team for this year's Championship. The Colts were grouped with Maldives and host Nepal in Group B while Bhutan, Bangladesh and Sri Lanka occupied Group A.
On August 19, the Indian contingent ran riot as they beat Maldives by a mighty 9-0 scoreline which included an own goal from the hapless Maldivian side at the ANFA Complex in Kathmandu, Nepal. Ravi stole the lime light for the young guns as he successfully registered his hat-trick in the 48th minute with his earlier goals coming in the 20th and 26th minute.
Four days after the scintillating performance against the young Red Snappers, the boys in blue continued their winning run as they defeated the hosts in a 2-1 result. Vikram and Ravi scored on either side of half-time to secure the semi-final berth for their side while Roshan scored the lone goal for the hosts.
On 25th August, coach Bibiano Fernandes' side took on Bhutan where they emerged victorious at the full-time whistle. Goals from Vikram, Harpreet and Ridge in a 3-0 result were enough to take Fernandes and his army to the finale of the tournament.
In the final showdown of the championship, the sturdy Indian side faced host nation Nepal. The Colts trailed by a goal for the first time after conceding a penalty in the 39th minute which was rightfully converted by The Junior Gorkhalis. However, the Indian boys bounced back within two minutes of the hour mark as Lalrokima struck at the right time to get India back into the match.
In the 74th minute, the Colts pulled off a comeback as Vikram struck in the 74th minute to provide his side with the lead. The Nepalese side failed to find the net following the visitors' second goal. At the end of the 90 minutes, the under-15 side of India was crowned the winner of the tournament owing to their top-notch outings and an unbeaten run in the series.