Mexico
Raul Jimenez or Chicharito - who should Martino start for Mexico?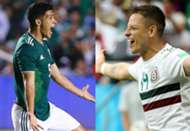 Tata Martino has his first-ever Mexico lineup ready, and he had a few difficult choices to make.
One battle emerging in a position where it may have surprised him is up top. Both Wolves forward Raul Jimenez and West Ham United front man Javier "Chicharito" Hernandez have been putting together strong campaigns in Europe.
The forward pool is shallow, with Alexis Vega of Chivas one of the few players Martino can rely on outside of the Premier League pair. There may be help coming through the ranks, with a few promising U-20 players set to show their worth in Poland this summer. Ahead of the Gold Cup, though, it's all about Raul vs. Chicharito.
Look for Martino to roll with Raul in his debut Friday against Chile. Long-term, though? There may be a bit of a battle to be had as Martino chooses against a hot hand and a consistent scorer on the international level. Let's take a look at the case for each and why playing both at the same time might not be a successful option:
---
The case for Raul
---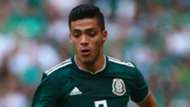 Jimenez hasn't needed anyone to make a case for him this season. He's done it himself.
With a dozen goals in the Premier League and three more in the FA Cup, Jimenez has gone from seeing occasional minutes at Benfica to being a regular starter in one of the world's best leagues. He's played so well that Wolves are looking to trigger a big-money clause to sign him on a long-term deal after this season's loan expires.
Jimenez is 27, three years younger than Chicharito. After the World Cup, he joined up with interim El Tri manager Tuca Ferretti's squads in the United States, Mexico and Argentina, showing his desire to help the national team and be the man going forward.
He has displayed a new dimension to his game in the Premier League. Not only can Jimenez use his size in the box to get an advantage on defenders or play with his back to goal and work with runners. Now, he's working as a hinge during counter-attacks, with six assists for a Wolves team that loves to move the ball around. With the caliber of wingers Martino has in his employ, he has to like what he's seen from Jimenez when he's watched the tape.
Yet, Jimenez never has put it all together with the national team. His early performances in the Tata Martino era will go a long way toward determining whether it's time to turn the keys over and let Jimenez be a focal point of the attack or if Martino needs to look elsewhere...
---
The case for Chicharito
---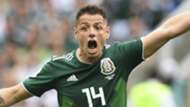 Chicharito seemed like the forgotten man. With Jimenez on a hot streak and Chicharito getting only sporadic minutes at West Ham, the forward looked set to fade into the background and cede his place to Jimenez. Declining to accept call-ups in the aftermath of the World Cup indicated he was set to let the new generation take over.
He fired a few warning shots last weekend, though. Chicharito's double for West Ham after his return to the national team had been announced days earlier signaled that he is not ready to turn over the reins just yet. The equalizer and winner against Huddersfield took him to seven Premier League goals on the year and mean he is currently scoring at a faster clip than Jimenez.
With the national team, Chicharito has been consistent. You do not become the nation's all-time leading scorer by accident. He is deadly in the box, and in Juan Carlos Osorio's system showed how helpful he can be in the build-up as well, dropping deeper to combine with other attacking payers or to be the outlet for the center back.
Martino has utilized some of those same concepts in similar stops and he may be seduced by how Chicharito is able to work as a general for the attack and serve as the link when a center back with the ball at his feet looks to break the line and get the ball upfield quickly.
---
Por que no los dos?
---
So why wouldn't Martino play them together? Jimenez has excelled both as a lone forward and with a partner up top this season, improving when Diego Joto moved up and started to combine with him.
The issue for Martino is that it's never worked out in the past. Of the 16 goals Jimenez has scored for El Tri, Chicharito was on the field for just one - the chilena against Panama in 2014 World Cup qualification. Other than that, Jimenez has scored only when his elder was off the field, often when he hasn't been in the team like in this fall's friendly matches.
Chicharito has evolved but is still a player who has scored each of his 50 Premier League goals in the box. Flexing him out wide isn't going to work out too well. The choice, at least for previous managers, has been to flex Jimenez out to the wing. There, not only are you working with a player in a position where he's never shown his best game.
What about a 4-4-2 or a similar formation? Well, winger remains Mexico's deepest position. Hirving Lozano needs to be on the field. Diego Lainez is going to push for a spot. Veterans like Jesus "Tecatito" Corona (if he clears his absence up) and Isaac Brizuela are difficult to keep off the field as well. Seeing how the two work together might be worth it during a preparation match, but if previous showings are any indication it isn't going to be too remarkable.