Paul Pogba
Pogba needs consistency to be world class like Messi or Ronaldo - McClair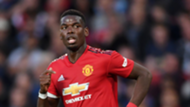 Paul Pogba needs to find greater consistency if he is to become a world class player like Lionel Messi or Cristiano Ronaldo, according to former Manchester United player and academy director Brian McClair.
Pogba is United's joint top-scorer this season in all competititons, having netted his fifth goal of the campaign against Everton on Sunday.
But despite topping the goalscoring charts Pogba has also been on the receiving end of some criticism – something the 25-year-old has grown used to since his £89 million ($116m) return to Old Trafford in the summer of 2016.
The France international also fell out with manager Jose Mourinho earlier this season for comments made about the team's tactics, resulting in Pogba being stripped of the vice-captaincy.
McClair, who knows all about Pogba's talents having been at United's academy when the midfielder first moved to Old Trafford in 2009, says he is happy with the Frenchman's performances.
However, the 54-year-old has warned Pogba he still needs to perform on a regular basis if he is to be considered a true great.
"Pogba is doing pretty well at Manchester United," McClair told ESPN. "There is a bit too much social media nonsense, which is nothing to do with playing football, but Pogba has scored some important goals and played well in important games.
"World-class players grab the main events, the semi-finals and finals for club and country, the biggest league games. France won the World Cup this year, but I don't know how many people would say that one particular player grabbed the whole thing. Pele grabbed World Cups, Garrincha and [Diego] Maradona too.
"[Michel] Platini grabbed European championships. Real Madrid, with players like Cristiano Ronaldo, [Luka] Modric and Sergio Ramos, grab the most important games when it really matters. They change games when things are going against you. Lionel Messi does the same. Cristiano did it when he was at Manchester United.
"A top Manchester United player needs to be at least 7/10 every game. And in the proper big games you need to make some 10/10 appearances."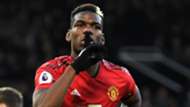 McClair also recalled the attributes that attracted United to Pogba in the first place as well as the position where he feels will be most effective.
"He was big, strong, quick and athletic. He wasn't and isn't a Patrick Vieira-type dominant midfielder like some have suggested; he's more of a Lionel Messi-type player," he said. "That might sound daft, but he's a player who can find a pass, beat someone, shoot and score.
"He has fantastic skills, but for him to have the best opportunity of success at Old Trafford, Pogba needs to be playing in the final third of the pitch as much as possible, whether that's him on the ball, running into positions or shooting. That has been more evident in the last couple of games where he's got into different positions and come close to scoring."
Pogba's deteriorating relationship with Mourinho led to reports the he could look to leave Old Trafford in January.
The midfielder even admitted earlier this season he was unsure of his future at the club and continues to be linked with a move to Barcelona.
However, McClair has a warning for Pogba should he consider leaving for a second time.
"The grass can always seem greener," McClair added. "But it doesn't matter if you are going to be a Man United player for a week or for 15 years, you will look back at the end of your career and Man United will have been the best club that you've ever played for."