PSL
Player Perspective: McCarthy could be South Africa's Zidane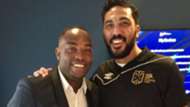 ---
PLAYER PERSPECTIVE:    SHUAIB WALTERS       Follow on Twitter
---
It is with a heavy and sombre heart that I begin this week's column. The football world has lost yet another young talented player. My sincere condolences to Ntuthuko Radebe's family. May he rest in peace.
With the start of 2017/2018 season looming closer, preseason training has begun.
Even though I have been keeping fit and following my own fitness regime during the offseason, my diet has been questionable at times, especially with all the nice eats on offer when we broke our fast during the month of Ramadaan.
Our first training session was extremely hectic, I think more so because everyone wanted to start off with a bang with new objectives and goals being set.
This is a very important time in the season as this time will set the trend for the rest of the season.
My first day of training started with me doing my morning prayer and meditation for 15 minutes. I am on a detox so breakfast is a green smoothie consisting of wheatgrass, kale, spinach, celery, cucumber and broccoli.
I then took some time to jot down some thoughts on what I wanted to address with my first day back.
The Confederations Cup has also been keeping me occupied. It's interesting that Chile have seven players in the team from 2010. This shows continuity, and in my opinion, that is partly why they were in the final.
Germany, on the other hand, has a young team which shows aggressive growth structure.
Watching these games confirmed my belief that football is a game of mistakes, for instance Chile made a mistake against the run of play in the final and were punished.
I feel they deserved to win as they created many chances but their lack of composure in the final third saw them defeated.
I want to end off by congratulating my close friend Fadlu Davids on being appointed as Head coach for Maritzburg United , well deserved.
I read an interesting article on Fadlu's appointment and how certain retired players feel that they will always be labelled as assistant coaches throughout their careers.
I don't really agree and a good example is Fadlu's appointment to Head coach after five years as an assistant coach and Benni's appointment as Head coach of Cape Town City without having coaching experience.
What is important here is that it depends on the individual and the circumstances.  Fadlu decided his coaching career will start as assistant coach until he was confident that he gained the experience needed to take on a Head coach position, whereas Benni - like Zidane- took the opportunity and -like it worked for Zidane-  I know it will work for Benni.
Till next week!
This column is brought to you by  Lotto Sports Apparel