MLS
Orlando City coming together behind new goal-scoring tandem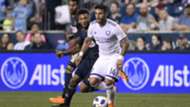 CHESTER, PA. — As Sacha Kljestan made his way out of the Orlando City locker room after the Lions' 2-0 victory against the Philadelphia Union, Dom Dwyer made sure to compliment his teammate on the excellent pass Kljestan delivered on Dwyer's 38th minute finish, which eventually became the game-winning goal.
"Hey, that was a nice one too," Dwyer told Kljestan.
"First one. First of many," Kljestan said.
The first Kljestan was referring to was the first goal combination between the newly-formed attacking tandem. Though it was their third match together, it was the first time they connected on a goal. After registering 51 assists in three seasons with the Red Bulls, Kljestan was acquired during the winter to help fill the playmaker void left by the retirement of Kaka.
"It's a dream. I admired him for a long time playing against him," Dwyer told Goal. "He gave Bradley Wright-Phillips that Golden Boot off me a few years back. He promised me one for me so we're working towards that."
Dwyer is well on his way. After missing the first three matches of the season with an injury, the 27-year-old hit the ground running, scoring in all three subsequent matches, helping the Lions rattle off three straight victories to offset a disappointing 0-2-1 start. Dwyer has four goals in three matches, giving him the best goal-scoring rate in the league.
Though Orlando City has won three straight, and has shown dramatic improvement from the first three matches of the season, the winning streak hasn't been without its issues. The defense had surrendered five goals in two matches before Friday's shutout, which saw goalkeeper Joe Bendik make a handful of excellent saves to help the Lions post their first shutout of the season
"I think we showed some character in the last few weeks, which is pretty important, especially at this point in the season," Dwyer said. "I think we've shown that this team is capable of special things too. Of course we made some mistakes early on in the game, but Joe made some fantastic saves. We battled and I think we deserved to win."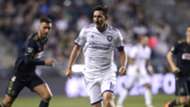 Friday's victory was made more impressive by the fact the Lions were without several regular starters. Defenders Jonathan Spector and Scott Sutter missed the match with injuries, while Justin Meram, Josue Colman and Uri Rosell began the match on the bench, with only Meram making an appearance.
Orlando City coach Jason Kreis is still working toward getting his strongest possible team on the field, something that injuries, suspensions and late arrivals have kept him from being able to do.
That might be the most impressive thing about Orlando City's three-match winning streak. It has come with the team not playing up to its potential, or with a full-strength squad.
"We're just trying to gel. Obviously it's our first clean sheet, which is very important to us. We're starting to figure things out," Dwyer told Goal. "We took a while to get going at the start of the season, but we're starting to hit our stride and you haven't seen our best yet."
Friday's win was also impressive to Kreis, who believes it's the first time this season his side has struck the right balance. 
"Tonight, I think we saw for the first time a collective mindset that we weren't going to give anything away defensively," Kreis said. "I think that led to us being very balanced, very well organized, and shut them down pretty well.
"Still, I think Philadelphia created quite a few chances, but they're a good team that's quite capable of creating those chances," Kreis said. "We just couldn't be happier with the complete performance."