African All Stars
NFF Awards 2018: Player of the Year Nominees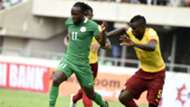 ---
COMMENT    By Solace Chukwu    

Follow on Twitter
---
Of all award categories of the maiden NFF Awards, the Men's Player of the Year is probably the easiest to call.
Remarkably, for an individual award, there are two nominees who for most of the year have largely functioned in a defensive capacity. Even more so, the pure attacker is the least likely to come up trumps, although not for a lack of effort.
In this feature, Goal assesses each nominee, and their respective arguments for the award.
Victor Moses
As far as the career of Victor Moses goes, 2017 was veritably red-letter. The preliminary evidence would seem to suggest that the spurt of growth has continued into the New Year as well.
The first half of 2017 saw the wideman complete his transformation arc from winger to wing-back, and his contribution was vital as Chelsea ended the Premier League campaign as deserving champions.
Whilst a specialist position, there is an argument that a less fundamentally attacking player might have struggled to interpret the specific role which the full-backs played for Conte's Chelsea in that 3-4-3 system.
Moses stats | 2016-17
His impressive performances were not restricted to the club scene, however. As it turned out, the consistency of performance with Chelsea rubbed off on his international form, as Moses produced for the Super Eagles at a level not glimpsed since 2013's Afcon triumph.
Going forward, he has been the thrusting force of Gernot Rohr's counterattacking team, and put on clinics in three of the first four World Cup qualifying matches to put Nigeria in pole position in the Group of Death. It was a position they would not vacate.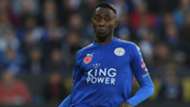 Wilfred Ndidi
Leicester were in a strange place in January of 2017. By then, it was already clear they would not be mounting anything close to a respectable title defence. Part of that had to do with the sheer improbability of the achievement of 2016, and part was to do with the loss of midfield dynamo N'Golo Kante.
So when they turned to Genk's Ndidi, there was understandably a lot of pressure on the youngster to deliver immediately, and restore some semblance of order to a team teetering on the edge of chaos.
If the then 20-year-old felt any pressure, he did not show it. Ndidi has, in just over a year with the Foxes, turned into a household name, and not simply because his surname is eminently pun-able.
Ndidi stats | 2016-17
From crunching tackles to boundless energy to mollusc-like limbs intercepting and hoovering up loose balls to long-range piledrivers. It has been one hell of a ride for the young Nigerian midfielder. Kante will remain in Leicester hearts for a dreamy title run, but purely in terms of his numbers on the pitch, he has been handily replaced by Ndidi.
It was also the year in which Ndidi made himself a regular in midfield for the Super Eagles. Now, it is hard to remember a time when he wasn't prowling that zone in front of the defence in tandem with Ogenyi Onazi. For the team's style, there is a good argument that Ndidi is Nigeria's most important player.
For a player who only turned 21, that is hugely impressive.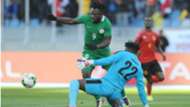 Anthony Okpotu
Nicknamed 'The Panther', the swarthy Lobi hitman was the talk of the Nigeria Professional Football League in 2017.
Aside the identity of the league winner, the next biggest intrigue is whether the extant Golden Boot record of 23, held by Mfon Udoh, for goals can be broken.
Okpotu did not quite manage it in the end, but his duel with MFM's Stephen Odey was quite the subplot. At one point, the Lobi striker trailed by as many as five goals, but impressively chased down his rival to finish with 19 goals, the last of which was a typically predatory strike against FC Ifeanyi Ubah on the final day of the season.
Two things stand out about that eventual total. The first is that only two were penalties, which serves to make it all the more impressive. The second is that he missed thrice from the spot, and so could have easily matched Udoh's record.
That does not, of course, take away from his achievement and his consistency, especially in a league that often sees strikers struggle for precisely that.
Honourable mentions: Ogenyi Onazi, John Obi Mikel. 
Favourite: Victor Moses
It may be a close-run thing, but he will just about shade Ndidi for the top award.
At the end of the day, attacking contributions are easier to see and to gauge, and the Super Eagles simply go up a couple of notches when Moses plays. Ndidi is more crucial for the system, but Moses elevates it.