Manchester United
'He's lucky he plays for Man Utd!' - Neville backs Mourinho's decision to drop Mkhitaryan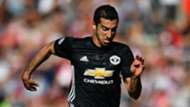 Jose Mourinho's decision to leave out Henrikh Mkhitaryan has been backed by former Manchester United defender Phil Neville.
Mkhitaryan has fallen out of favour under the United boss, and has not been in the squad for any of the club's last five Premier League games.
The Armenia international was signed for £26.3 million in 2016, but has struggled to make an impact at Old Trafford, and Neville believes he should be grateful whenever he is selected.
"Yes, they've spent a lot on players but maybe there are fewer and fewer players of that mentality available. You need to have them in the spine of your team," he told Sky Sports.
"There's a lot of criticism of Jose's treatment of Henrikh Mkhitaryan but he ultimately didn't deliver when he's played. He's not unlucky, he's lucky he gets to play for United.
"Under Sir Alex [Ferguson], if I didn't perform I wasn't in the team. People need to stop sugar-coating it. If you don't perform then you don't get in the team or a new contract, it's not Jose being personal, it's business."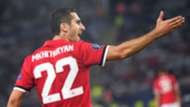 Elsewhere in the team, Romelu Lukaku has come in for criticism for his performances in big games, despite scoring 10 goals in 18 Premier League games thus far this season.
The Belgium international has refused to celebrate his last two goals, and Neville believes that his lack of emotion is a signal that he is sick of his critics.
"I feel for Lukaku because whenever he scores he gets criticised and he could score 25 goals this season and barely receives any praise for doing what the manager brought him in for," he added.
"I think his lack of celebration definitely indicates his anger at the criticism. I could understand it against Bournemouth but there's no better feeling in the world that scoring a goal so I'd like to see him start enjoying it again.
"Goalscoring, for a centre-forward under pressure, is so important so show your team-mates and supporters that you are happy to be contributing."