Australia
Milligan reveals personal heartbreak at missing England move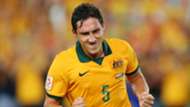 Socceroos midfielder Mark Milligan has opened up on his heartbreak after a transfer to Championship side Bolton Wanderers fell through because of the FIFA world rankings.
The 32-year-old agreed personal terms with the English club in July but with the national team failing to achieve an average ranking of 50 or less over the past two years, his application for a work permit was rejected.
Milligan revealed the pain he felt at the conclusion of the drawn-out process, and explained he re-joined Melbourne Victory shortly after because of the opportunities he lost while waiting.
"I was absolutely gutted with the final result from the visa board. I was pretty much done and dusted [to join Bolton] and was so close to getting my move to England," Milligan told ABC Grandstand.
"Obviously it dragged on a little bit in the end because we were sort of waiting for new rankings to come out in the hope it will push [the Socceroos] a bit closer to the top 50.
"In the end it didn't but [the visa board] held out for that long and other [opportunities] passed by.
"A lot of teams make signings or make offers and when you turn them down, they're not there days later."
Milligan penned a one-year marquee contract with Victory - the club he captained to an A-League double during the 2014-15 season.
The length of deal leaves the Sydney-born star open to another transfer at the end of the upcoming Australian season and when asked if a dream move to England was still a possibility, he said: "Yeah absolutely. I work extremely hard on keeping my body right.
"Although I'm getting on a little bit now, I don't feel like I've missed a beat since the off-season and coming back in pre-season."
You could forgive Milligan for having a slighty bitter feeling at the national team for contributing to the downfall of his Bolton move.
But the veteran says he still honoured to be selected by Ange Postecoglou and has strong motivation heading into Australia's final two World Cup qualifiers against Japan and Thailand.
Hopefully [we can get through] these next two games – and we don't know what's going to happen after that – but [I'll be] looking at possibly going to a fourth World Cup," Milligan said.
"There isn't anyone at the moment that can say they've done that.
"That's something that definitely drives me and although we fell short with the national team rankings, and it did hurt me, I still have a lot of passion and pride playing for my country.
"As long as I have that, I'll be over the moon for any selection that I'm picked in going forward."
The Socceroos face Japan in Saitama on Thursday, before hosting Thailand in Melbourne five days later.
They currently sit third in group B - behind Japan and Saudi Arabia - and need four points to guarantee automatic qualification.