Mexico
Mexicans Abroad Minute: Osorio visits Layun, Guardado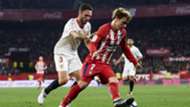 You know it wasn't the best weekend for Mexicans abroad when Juan Carlos Osorio simply being in town is the most exciting thing to happen.
That's the situation we find ourselves in, though. The Mexico national team manager visited Sevilla training to see Miguel Layun ahead of Wednesday's match against Malaga. Layun played 90 minutes of the 1-0 Sevilla win, earning a yellow card in the 12th minute.
Osorio also will visit with Andres Guardado during the trip. Guardado didn't play against Levante on Monday due to injury. Despite suiting up and playing against Real Madrid, the knock he took against Deportivo La Corona may have caught up with the 31-year-old, who could return Thursday against Real Sociedad.
Unfortunately for fans of El Tri, players sitting is the story of the weekend. Hector Moreno missed Real Sociedad's contest as he begins his recovery from a glute issue. Chicharito started on the bench and played just seven minutes of West Ham United's 4-1 defeat to Liverpool. Hirving Lozano is healthy but suspended and had to look on as PSV topped Feyenoord, 3-1.
There was a bit of a bright spot in Portugal once again. Raul Jimenez came on for Benfica and had two assists in the club's 3-1 victory over Pacos de Ferreira. The Eagles were trailing at the half and turned to Jimenez just before the hour mark.
Click the play button above to get a quick video review of how Mexican national team stars based in Europe performed this week - and what's to come for El Tri's most important players ahead of the 2018 World Cup in Russia.