Transfers
Mbappe axing was not a punishment, says Monaco boss Jardim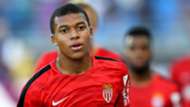 Monaco boss Leonardo Jardim claims that the decision to drop Kylian Mbappe to the bench was not a punishment against the player.
The 18-year-old striker continues to be the subject of intense transfer speculation, with Real Madrid and Paris Saint-Germain still linked to him for a fee of €180 million.
Reports had suggested that he wished to leave Stade Louis II and was hence left among the substitutes for Monaco's Sunday trip to Dijon, but Jardim has rejected that claim.
"Was Mbappe punished? No, not at all. With everything going on around an 18-year-old kid, it's our responsibility to protect him from the storm," the coach said.
"I will always protect players who need it. My philosophy is to play with players who are 100% available to the squad. Kylian is not at 100%. He's not in shape right now.
"It was a decision from the club. That means me, vice president Vadim Vasilyev and the sporting director, Antonio Cordon. It's our decision for the player, the squad and the club.
"The players must adapt to playing with any of their team-mates. I've been here a long time. I won't cry if any player leaves. It's not the mentality of the club to work like that.
"We will try to keep our momentum. We have our idea of the game and we'll try to project it."
Jardim hinted that rumours linking PSG with Mbappe are purely tactical on their part.
"The transfer market is 20 per cent about buying and selling. The other 80% is to cause mayhem for your opponents. It's strategic."
Meanwhile, Jardim has commented on Fabinho once again being overlooked for selection to the Brazil national side.
"I don't understand why he's not been called to the Brazil team," he said. "But it's like that, it's not for me to decide."
On Friday, Monaco will face Metz in their latest Ligue 1 encounter, having beaten Dijon 4-1 last time out thanks in part to a Radamel Falcao hat-trick.