Southeast Asian Games
Thanabalan back in full groove and ready for more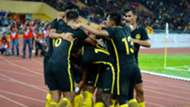 There's a new hero amongst the Malaysia football fans, and after his heroics in the Bangkok last month, N. Thanabalan is once again the man in focus after he scored the winner as Malaysia edged Singapore 2-1 on Wednesday night.
The win sees Malaysia gaining maximum points after two matches played in the group stage of the 2017 KL SEA Games. 
For Thanabalan himself, he was only introduced at the start of the second half, a precaution after his recovery from injury. It took the winger less than 30 minute to make his impact, pouncing on a loose ball in the box to send the 50,000-odd home crowd into delirium.
"I didn't think that before [coming on to score] but I'm very happy to have scored the winner. I'm back fit again and ready to play more," said Thanabalan after the match.
The FELCRA FC player knows that despite the six points gained after two matches, the team cannot rest on their laurels just yet. The important encounter against Myanmar lies ahead on Monday, a team that Thanabalan reckons will provide the stiffest contest to the team. 
"It's not over yet. We have to remained focus. We can't be like in the first half when we got careless, there are still two more games to go."
"If we can beat Myanmar, I'm sure we can finish top of the group. Myanmar is a strong team who have qualified for the World Cup. They will Malaysia's toughest opponent in the group," he added.
Myanmar are now top of the group by virtue of a higher number of goals score and they are set to increase that lead when they take on Brunei on Friday.