Lionel Messi
Lionel Messi at 500: His top 10 Barcelona goals so far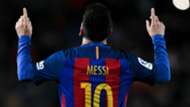 Lionel Messi's footballing career has been special, especially for Barcelona fans. As the Argentine approaches his 500th goal for the club, Goal takes a look back at his ten greatest strikes for Barca to date.
---
---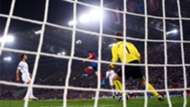 Messi's record against English teams, away from English soil, is an impressive one, with 15 goals in his last 16 against Premier League representatives. This, however, was arguably his biggest.
Xavi's cross found the head of Messi, with his looping effort across Edwin van der Sar leaving the Manchester United goalkeeper with no chance and clearing the way for Barcelona to lift the Champions League.
---
---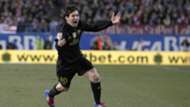 Messi's quality caught everyone off guard with this attempt, not least Thibaut Courtois.
Despite not being in a goalscoring position, he looped a free-kick over the head of Courtois, after catching him and the Atletico defence off-guard, when most expected him to line up a cross. 
---
8) vs. Real Madrid - 10/03/2007
---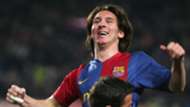 The attacker announced himself on the Clasico scene in typical fashion, ten years ago, with a hat-trick.
The pick of his goals that night ensured his hat-trick. Messi broke through the Real Madrid defence, creating space for himself to allow him to fire a shot across Iker Casillas and into the bottom corner.
---
7) vs. Athletic Bilbao - 27/04/2013
---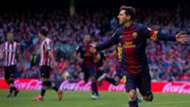 Messi's close control was put to the test with this effort - a test which he passed with complete ease.
Thiago played the Argentine into possession, allowing him to see off two defenders and finish with aplomb into the bottom corner.
---
6) vs. Zaragoza - 21/03/2010
---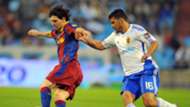 Yet another special solo effort, in which Messi wrestles possession back for Barcelona, before taking another two players out of the game and finishing well past a helpless Zaragoza goalkeeper.
---
---
Another strike that has graced a big Champions League game, although Jerome Boateng probably won't be watching it too often.
Messi sat Boateng down with a touch through his legs, before leaving Manuel Neuer with little chance with a delicate chip.
---
4) vs. Arsenal - 08/03/2011
---
Arsenal's European woes have been in no way eased by Messi and Barcelona over the years, and this strike goes to prove that.
The ball finds its way through to the five-time Ballon D'or winner, who showed his class, chipping over Manuel Almunia, leaving the path clear to put home, first-time.
---
3) vs. Real Madrid - 27/04/2011
---
We've already established that Messi is the master of the solo effort, and this attempt against El Clasico rivals Real Madrid proved that further.
Messi picked the ball from the feet of Sergio Busquets and with that embarked on an astonishing run that saw him beat three men before sending Iker Casillas the wrong way with a low effort across goal to finish the move.
---
2) vs. Athletic Bilbao - 30/05/2015
---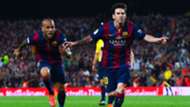 Yet more magic from the Argentinian, with this strike in the 2015 Copa Del Rey final.
Messi cut in from the right-hand side, beating three, before finishing at the near post past Iago Herrerin, breaking the deadlock and helping Barcelona to a 27th Copa del Rey title.
---
1) vs. Getafe - 18/04/2007
---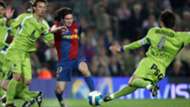 A goal that it's hard to believe is ten years old and one that continues to be regarded as one of the greatest ever.
Messi channelled his inner Diego Maradona to beat four players with ease, before rounding Getafe's goalkeeper to slot home.