Manchester City
Kompany: Next season we'll see if Guardiola's approach is right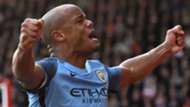 Vincent Kompany believes Manchester City will not find out whether Pep Guardiola's approach is the right one for them until next season.
City failed to capitalise on Manchester United's draw with Swansea City and Arsenal's defeat to Tottenham at the weekend, with Middlesbrough holding Guardiola's men to a 2-2 stalemate.
Jesus: City don't have first-choice striker
That means they remain just a point ahead of United in the race for Champions League qualification with four games of the Premier League season remaining.
Guardiola arrived in Manchester having won numerous trophies with Barcelona and Bayern Munich, but has received criticism in his first season in England centred on City's inconsistent defending and his decision to replace goalkeeper Joe Hart with the technically gifted but error-prone Claudio Bravo.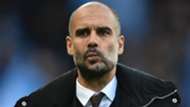 Kompany, however, argues that the Catalan has inherited a completely different set of circumstances at the Etihad Stadium and should be judged next season.
"You can't compare Barcelona and Bayern Munich to Manchester City," he told Play Sports in Belgium.
"Guardiola has come to City with a very unique style and he wants to continue that philosophy. We had to work to adapt to his style.
"I don't want to sugar-coat it, but I think that next season we'll see if his approach was the right one. It looks like everything is already here, but we are still a club under construction.
"Next season we'll have to perform better."
Kompany, who has started five of City's past six games, is finally getting the chance to play under Guardiola on a regular basis after two years plagued by what appeared to be career-threatening injury problems.
"I'm very happy," he enthused. "I've worked so hard, I've fought so hard for this. My motivation has always been high. I've never doubted myself.
Premier League Team of the Week
"I've that happy feeling: look, I'm back again! I have always been rational. I know my situation and I know why I came back. As long as I feel that inner strength, I'll be alright.
"My only wish is that I could be part of the team that reaches that final goal [of winning the Champions League]. One day it will happen – I'm sure."