Mexico
Iceland coach Hallgrimsson: Osorio really focused on winning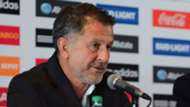 LAS VEGAS — Iceland coach Heimir Hallgrimsson is impressed with the level of the squad Mexico has called in for Wednesday's friendly.
The Icelandic coach, who helped guide his homeland to the quarterfinals of the 2016 European championships, said El Tri boss Juan Carlos Osorio is not only looking to find depth options for his strongest side but also gunning for a good result. With Osorio calling in a number of experienced players, like Atlas defender Rafa Marquez, LA Galaxy forward Giovani dos Santos, and Tigres defenders Hugo Ayala and Jorge Torres Nilo, less scouting was required for the European team.
"We know some of the players, of course. It's really experienced, known players worldwide, so we don't need to scout them a lot," Hallgrimsson said. "We've seen a couple of their recent games. We've seen the stats from the coach, the really good winning percentage in his game.
"In this game, you see that he is really focused on winning. We know a lot about Mexico, but the best thing is to play teams from other continents, to play different styles, to get players to have the experience that's necessary to play against different kind of players, different kind of football styles. We're just looking forward to it."
WATCH: Bobby Wood scores in Hamburg German Cup win
Osorio's only defeat with Mexico is a 7-0 loss to Chile in the quarterfinals of the 2016 Copa America Centenario. Though Iceland brings a squad with far less international experience than Mexico and will play in front of a pro-Mexico crowd, it too is aiming for victory.
"First of all we have to have a good performance and it is a training game so we have to see a lot of new things and new players," Iceland goalkeeper Frederik Schram said. "But football is about winning so of course we're going for that, but it's all about seeing how we're doing and how we're performing."
But Hallgrimsson, who said Tuesday he still practices dentistry when he can despite Iceland's soccer success, reminded reporters that the key for him is finding players who can help Iceland in World Cup qualification.
"That's what we're trying to do, to get new players to show what they can do against a good side like Mexico," he said. "We hope that we can add one or two players from this squad to our European qualifiers."
Mexico and Iceland will kick off at 10:06 p.m. ET on Wednesday.