World Cup
How will Mexico line up against South Korea?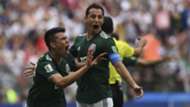 Click here for the confirmed starting XI!
There's a report from a Korean news outlet that a source inside the Mexico camp told them Mexico will not make any alterations from the lineup it used against Germany when El Tri take on South Korea on Saturday. 
Don't believe everything you read.
Mexico manager Juan Carlos Osorio is famous for making alterations to his lineup, and has earned the (usually derisive) nickname "Juan Cambios Osorio" or "Juan Changes Osorio". El Tri had a fantastic opening game, beating Germany 1-0. Yet you can still expect rotations to be made. Osorio's philosophy is that each game calls for a different scheme, for different personnel who can best defeat the opponent.
It's also a long tournament. While Mexico has more rest between matches now than it does in qualification, Osorio always takes a player's physical status in mind. Players like Andres Guardado and Hector Moreno were carrying knocks heading into the World Cup. They may be rested or utilized in a different capacity to keep them fresh for what Mexico hopes is a deep run.
As we do before every match, Goal takes a look at three potential starting XIs for Mexico against Korea. 
---
Tecatito time
---

The Koreans are vulnerable on the wings. Mexico will be able to exploit the fact that South Korea is playing its second-choice left back and has a right back that has played well in the domestic league but poorly on the grand stage.
To do that, it seems wise to keep Hirving Lozano in the starting lineup on the left side going after Lee Yong. He's Mexico's fastest player, as Osorio pointed out after the victory against Germany, and should be able to run at Lee all night. 
Jesus "Tecatito" Corona has a similar profile and could use his speed to arrive on the right side. Between those two players, I'm projecting Raul Jimenez up top. He came in and put in an excellent effort against Germany. Javier "Chicharito" Hernandez also played well, but this is the kind of game where Jimenez may be useful up top, and Chicharito can get a break or come on in the second half to continue toying with the Korea defenders if needed.
At the back, Miguel Layun returns to left back in place of Jesus Gallardo, despite the Monterrey man's excellent World Cup debut. We're not exactly sure how Osorio plans to use the versatile Layun this tournament. Perhaps Gallardo keeps his place and Layun becomes a day-in, day-out midfielder. If not, Jonathan dos Santos could make a World Cup debut of his own coming into the midfield next to Hector Herrera and Guardado. Center backs Moreno and Hugo Ayala plus right back Carlos Salcedo return from the opening match.
---
Going with three
---

Osorio also seems to be considering playing with three center backs, which could produce this ugly-on-the-graphic but potentially good-in-real-life 3-4-3 with a diamond midfield.
Herrera would be at the base of the diamond, largely protecting the back three of Moreno, Ayala and Salcedo - all of whom have played in similar alignments before. Edson Alvarez or even Rafa Marquez could play this role as well after positive substitute appearances Sunday. To the left is Guardado, to the right once again is Layun. That would leave a player like Carlos Vela to come in and work behind the forwards with Lozano and Tecatito once again included to use their speed against Korea.
Chicharito comes back in for this projection thanks to his habit of coming back into the midfield to receive passes. Korea also could use a back three to attempt to mask its issues defending wide, so this definitely is a formation to keep an eye out for from one or both teams Saturday.
---
Rotate like crazy
---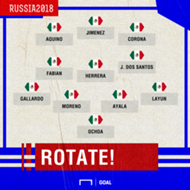 Osorio will make changes. It's what he does. It's unlikely he will make this many changes. That said, this isn't a terrible team.
We have a similar back four to the one that played against Germany with Gallardo, Moreno and Ayala keeping their places. Miguel Layun goes to right back to spell Carlos Salcedo. In the middle, Herrera also returns with Marco Fabian on his left and Jona dos Santos entering.
Up top, Corona and Jimenez once again feature with Javier Aquino entering for Lozano. Aquino is an interesting player. He's talented but he doesn't fit perfectly into Osorio's system. Despite that, the manager has plenty of trust in the Tigres player. He may see minutes in the World Cup, but you'd expect Osorio to bet on Lozano's speed over Aquino's passing ability and skill with the ball at his feet.
That said, you never know what the manager has seen that will excite him from a certain player and lead him to make a surprise decision.