World Cup
How to dress like England manager Gareth Southgate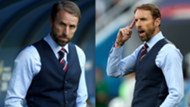 Move over, Nigeria – Gareth Southgate has the most appealing style at the World Cup.
One of the most surprising elements to come out of England's World Cup campaign is the emergence of Southgate as a snazzy dresser.
The Three Lions head coach has garnered praise from fans and the media for his humble nature and down-to-earth personality, which was apparent in his squad selection – choosing a good mix of young and fresh players that seemed to revitalise a squad that was too bogged down by its past.
Southgate has guided England to the semi-final phase with victories over Tunisia and Panama and a win over Sweden in the quarters, and while his managerial efforts are to be lauded, his choice of attire is also popular among fans, with sales of his waistcoat in particular increasing in sales.
So how can one get their hands on a waistcoat that is similar to that of trendsetter Southgate's?
---
Where to buy England manager Southgate's waistcoats
---
Ever since Southgate has been sporting the waistcoats at the dugout this summer at the World Cup, Marks & Spencer – who have been official suit supplier for England since 2007 – said that demands for them have increased 35 per cent, which they attribute to the 'Gareth Southgate effect'.
Southgate and his waistcoats are not obvious contenders for the 'best-dressed managers' list but perhaps it is the traditional yet classic style worn by a rather unassuming young manager that seems to appeal to England fans new and old.
It also comes in tandem with the general ideology that Southgate and this England team are one of the most 'likeable' in years. Naturally, the home fans would want to emulate that kind of affability.
He has even spun a unique twist on his own style of waistcoats as it is fully buttoned-up, whereas traditionally the bottom button is usually left undone.
---
How much do Southgate's waistcoats cost?
---
England's entire collection of suits and waistcoats is available online at Marks & Spencer , and Southgate's in particular costs £265. Fans can also purchase the red, white and blue tie that Southgate adorns for another £25.
The suits are made out of merino wool from the Alfred Brown mill in Yorkshire and were also the base fabric of England's 2014 World Cup suits, and for Team GB's uniform at the 2012 Olympics in London.
---
Why is Gareth Southgate so popular?
---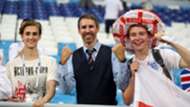 Southgate's popularity among England supporters has increased by tenfold following his side's success in Russia, though was still a favourable figure before the tournament.
Perhaps it is owing to the fact that, for once, he is an England manager not likened to a dinosaur – unlike predecessors Sam Allardyce and Roy Hodgson – and has an affable quality about him that seems genuine and humble.
He is ever courteous and polite in press conferences (and in his dresswear) and does not seem to have the air of superiority or arrogance that was so possessed by former Three Lions managers. Additionally, the fact that he was a prominent England international in his youth makes him more relatable and accessible to the players, and even the act of watching his side defeat Colombia on penalties – 22 years after he missed from the spot himself in the Euros – was a nice piece of poetic narrative.
Southgate is so popular that he's even spawned his own lookalikes in Russia, such as the above fan who attended the quarter-final fixture in Samara.
Of course, England's unprecedented success in the World Cup has added to Southgate's popularity. But it is the fact that England headed into a World Cup minus the increasing pressure and expectations forced upon them by the entire nation that has benefitted them so.
England have reached the semi-final of the tournament for the first time since Italia '90 in their victory over Sweden, to keep fans ever dreaming of bringing the football home.