UEFA Champions League
How the Dani Alves and Barcelona love story ended in divorce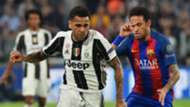 ---
SPECIAL REPORT
---
Barcelona's recent Champions League exit at the hands of Juventus will have been painful enough for the club's fans, but seeing their former hero Dani Alves on the opposing side in the quarter-final tie may have hurt them even more.
Beating Barca was bittersweet, says Alves
Alves left Barca last summer in a shock move to Italy that took everyone at the Catalan club by surprise. Even Luis Enrique admitted in his first press conference of the new season that the transfer had been unexpected. And almost a year on, the Brazilian's departure is lamented at Camp Nou.
"Obviously I would bring back Dani Alves," former team-mate Xavi told Goal in an interview ahead of the tie against Juventus. "He decided to leave, but for me he is the best right-back in the world at the moment. Barca miss him a lot."
They do. Alves spent eight successful seasons at the Catalan club, where he was a fixture on the right side of defence, winning 23 trophies for the Blaugrana and forming a wonderful understanding with Lionel Messi in particular, providing more assists for the Argentine attacker (42) than anyone else.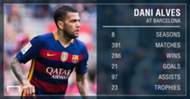 Alves almost left Barca a year earlier. Contract negotiations with the club reached a stalemate and the player had decided to leave until talks restarted and a deal was agreed just in time. By then, the club had bought Aleix Vidal as his successor, but the Catalan was unable to feature until January because of the transfer ban which prohibited the fielding of new players in 2015.
Although happy to have agreed an extension on his terms, the tensions with the board never really went away and that proved to be the deciding factor in his decision to leave in 2016.
"I like to be loved," he said in an interview with ABC in February. "And if I'm not loved, I leave. Leaving Barcelona for free was a punch with class. In my last seasons I always heard that Alves was leaving, but the directors never said anything to my face.
"They were false and ungrateful. They didn't have respect for me. They only offered to renew my contract when the FIFA ban came into effect. So that's when I decided I would play and I signed a renovation with a free clause. The people who run Barcelona have no idea how to treat the footballers."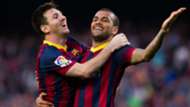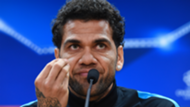 Later, Alves told fifa.com in another interview that he was fed up with being made the scapegoat. "Things changed at club level," he said. "And as time went on, I always seemed to be the one in the firing line. 'Dani's the one who has to go,' they would say. I just got tired of it."
One such instance occurred when Barca were knocked out of the Champions League by Atletico Madrid last April and the following day, the defender posted a video on Instagram which featured him singing in a woman's wig in an attempt to lighten the mood. "I don't know how to live any differently," he wrote and also added a #goodcrazy hashtag.
Luis Enrique later defended the player, claiming he had only been trying to help, but Barca's board did not like it and this time Alves had had enough as more negative stories circulated in the media questioning his future - some of which he believes came directly from sources at the club. 
Having negotiated the clause which allowed him to walk away for free, he felt that the time was right to move on. "I decided to head off in a new direction and find happiness somewhere else," he said later.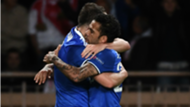 And he has found happiness at Juventus. After a slow start and then an injury setback which saw him sidelined for over two months after he suffered a broken leg against Genoa in November, the Brazilian has turned in some superb showings in recent weeks and produced two wonderful assists as Juventus beat Monaco 2-0 in the Champions League semi-final first leg.
Alves rules out Barcelona return
"Barcelona is in the past for Dani," his agent and ex-wife Dinorah Santa Ana told Goal. "There is nothing to say about that now. Dani wanted to go to Juventus. It was a new challenge for him and every game he plays is spectacular. He is excited about winning trophies with Juve."
The Champions League is one of those titles up for grabs and destiny looks set to match the full-back with his old rivals Real Madrid in the final next month. "That would be special for Dani," Santa Ana admitted.
And it will be an opportunity for fans of the Blaugrana to cheer on one of their former heroes again. At the same time, however, those supporters will wonder whether it might have been Barca and not Juventus competing for the title had his relationship with the board not deteriorated so dramatically in the lead-up to his exit last summer.