Videos
WATCH: Hand of God? Maradona's goal helps wake man up from coma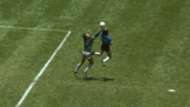 Facebook user Diego Funes shared a truly heartwarming video with the public on Thursday: the audio from Diego Maradona's 1986 goal against England appeared to helped to wake his brother from a vegetative state.
Funes's brother had been in a bad bike accident and had been in a coma for two months, but Diego had not lost hope and continued to communicate with his sibling on the advice of doctors.
Eight weeks after the terrible incident, something wonderful happened.
"Today I want to share with you a video of my brother in a vegetative state, two months after a bad bike accident in Miami, Florida," Funes shared.
"The doctors advised me to talk to him because familiar voices can help his neurons start firing properly again.
"I talked a lot and after I showed him this video his brain started working again! I couldn't think of anything better and I wanted to share this moment.
"I hope Maradona sees this and sees that his goal against the English began his recovery. Today, luckily, my brother is fine. Others, like Schumacher, are still recovering."