A-League
Arnold: Sydney FC will reach '80 per cent' in derby
Goal Australia Chief Editor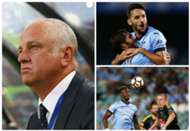 Sydney FC coach Graham Arnold has predicted "a big step up" from his side in Saturday night's derby against Western Sydney Wanderers.
Despite Sydney being on one of the longest unbeaten streaks in A-League history, Arnold has regularly claimed that his side has plenty of improvement left in them, with the veteran coach's refrain that the Sky Blues are only functioning at 60 per cent becoming one of the catchphrases of the season.
Ahead of the third Sydney derby of 2016-17, Arnold argued his team will reach "80 per cent" against the Wanderers.
Arnold's men are on track to become the first A-League team to finish a season undefeated, while their unbeaten run has stretched to 20 matches including the last game of 2015-16.
Arnold targets A-League record points haul
"We've got a massive belief in this squad. I've been saying it for the last six or seven weeks that we're only functioning on 60 or 70 per cent, but the way the boys have trained this week I can see a big step up tomorrow night," he said.
"The boys will step up to 80 per cent tomorrow night or even more.
"The enthusiasm and intensity in the training sessions, the quality, have been nearly the highest I've ever seen coaching in the A-League and that's all down to the belief of the players."
The Sky Blues haven't lost a derby to Western Sydney since January 2014 - a run of nine matches.
This season has seen Arnold's men thump the Wanderers 4-0 in the opening round before the two teams played out a scoreless draw at Sydney's Allianz Stadium last month.
While Western Sydney have stressed a number of times this week that they should have won the last derby - the Wanderers were denied what appeared to be a clear penalty in the first half - Arnold had a quick response on Friday.
"It's one against seven and we're 26 points in front and that's the reality," he said.
Arnold added: "I analysed the Wanderers over the last four or five weeks and our last game against them and they did well against us last time but that's history.
"I thought it was just a stalemate. We both cancelled each other out, but I just think we've improved enormously since then."
The 53-year-old revealed his entire squad - apart from Seb Ryall (hamstring) - is fit and that he still hasn't decided on his starting line-up to face the Wanderers.