Barcelona
'He's done it in Portugal, England and La Liga' - Giggs prefers Ronaldo over Messi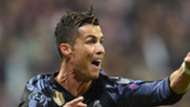 Former Manchester United star Ryan Giggs has weighed in on the debate for supremacy between Cristiano Ronaldo and Lionel Messi, saying he prefers the Real Madrid star.
Giggs and Ronaldo were team-mates at Old Trafford before the Portuguese superstar moved on to Real Madrid in 2009.
Speaking to Sky Sports, Giggs revealed his slight preference for Ronaldo over his arch-rival Messi. 
"Well obviously I played with Cristiano so I'm going to go with Cristiano," he said.
Zidane: A Galactico for Galacticos
"But they're both two great players. We're living in an era where you're seeing true legends at their best going head-to-head each season."
Though Messi leads Ronaldo in Ballon d'Or trophies by a count of five to four, Giggs says Ronaldo's ability to reach the highest heights in multiple leagues, as well as his international success, puts him over the top. 
"It's special to see but Cristiano has done it in Portugal, he's obviously done it in England and he's done it in La Liga and also on the national front with Portugal as well. 
"I think Cristiano for me just pips it, but only just."
Ronaldo led Real Madrid to a La Liga title this season, though Messi did win the Pichichi trophy as the league's top scorer.