Transfers
FC Cincinnati's MLS expansion draft set for December 11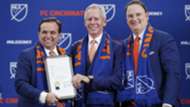 The next big step in roster building for FC Cincinnati will take place early next month, with MLS announcing that the league's newest club, set to start play in 2019, would have its Expansion Draft on December 11. 
A concept that may be foreign to those outside of the United States, the expansion draft will allow Cincinnati to draft five players from other MLS teams as they look to put together a roster for the club's initial season in the top flight. 
Expansion has become a tradition in MLS and the expansion draft process is now considered a normal part of roster proceedings for clubs, but Cincinnati's draft will be somewhat more limited. 
Since 2014, each round of expansion in the league has seen two clubs enter together. With Los Angeles FC having entered the league for the 2018 season and Cincy to enter just a year later, the addition of the two clubs will be considered one round of expansion. 
In past years the clubs would trade off picks, meaning LAFC and Cincinnati would have 10 total selections between the two expansion sides, with any club having a player chosen then exempt from losing a second player from its unprotected list. 
However, LAFC's selections heading into its maiden season were made a year in advance, meaning the Columbus Crew, San Jose Earthquakes, Seattle Sounders, Sporting Kansas City, and Toronto FC, who all had players picked from their squads by LAFC, will be exempt from having players drafted by Cincinnati. 
LAFC will not be given an exemption and players from Bob Bradley's side will be available for selection. 
As recently as 2014 the Expansion Draft allowed new teams to make as many as 10 selections. 
To make up for having fewer clubs to choose from, Cincinnati will receive additional allocation money. 
The MLS clubs not exempt from having players selected will have until Dec. 10 to submit their lists of protected players. 
Cincinnati has already shown an aggressive mindset to building its MLS roster, with the club having acquired striker Fanendo Adi from the Portland Timbers in exchange for $450,000 in general allocation money and $400,000 in targeted allocation money  earlier in the season.
Adi made the drop down to the second tier of U.S. soccer to finish out 2018 and will one of the club's headline stars entering their first season in the top flight.