Gaming
Fantasy Football: Underrated players worth owning in 2017-18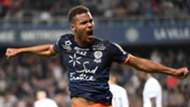 We recently discussed big name players who were not worth their big price tags, but what about players on the other side of the spectrum.
Lesser-known commodities tend to come with lower prices and ownership which offers a huge advantage to start the year. If you hit big on a low priced player, the surge in ownership will cause the price to spike which could push your team's value far higher than the 75m that you are given to start the year. Below are three players who are far too underrated in advance of the 2017/18 Premier League season.
Steve Mounie - Forward, Huddersfield, £6.0m, 0.14% owned
Buried in the many, many Huddersfield transfers this summer was the signing of Steve Mounie and, frankly, that's a shame. Last season, he scored an impressive 14 goals at Montepellier which made him one of the 10 highest goal scorers in Ligue 1.
The main concern here is Huddersfield's lack of attacking prowess. They finished 14th in terms of goals scored in the Championship last term, a stat which does not exactly lend confidence.
That being said, last year we saw a tall striker from a foreign league lead a mediocre attack to great Fantasy success by the name of Fernando Llorente.  Whether or not Mounie can duplicate the Swansea man's Premier League success remains to be seen but, with a kind early schedule and a cheap price tag, he's definitely worth a gamble.
Manuel Lanzini - Midfielder, West Ham, £6.7m, 2.85%
Last season was meant to be the Dimitri Payet show but, after a slow start, the Frenchman abandoned the Hammers in favour of a return to Marseille in January.
That left Lanzini as the only real option behind the striker but, fortunately for them, the Argentine surpassed expectations. With five goals and two assists after Payet's departure, he still managed to finish as a top 15 midfielder in the Goal game.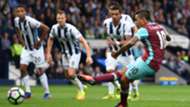 It's worth noting that no player with more chances created had fewer assists but, in new signings Marko Arnautovic and Javier Chicharito Hernandez, West Ham have now surrounded Lanzini with players capable of turning his passes into goals. 
Adam Smith - Defender, Bournemouth, £5.8m, 0.2% owned
Kyle Walker was oft mentioned as the defender with the most assists last season. Funnily enough, it was actually a three-way tie between Walker, and two of his former Tottenham team-mates in Kieran Trippier and Smith. 
The latter also finished in the top 10 of chances created at his position which shows that his assist tally is repeatable. The only undoing of Smith's Fantasy value last season was the shakiness of Bournemouth's defence, but that only started when Nathan Ake had his loan cancelled by Chelsea.
In fact, Bournemouth earned six of their eight clean sheets in the first half of the season. With Ake back at the club and a massive improvement between the posts in Asmir Begovic, the Cherries could well earn enough clean sheets to turn Smith into an elite Fantasy defender.