Premier League
Enough is enough! Arsenal must replace Wenger with Allegri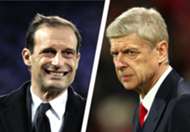 ---
COMMENT
---
Albert Einstein reasoned that the definition of insanity was "doing the same thing over and over again and expecting different results." Watching the same thing over and over again can be just as maddening. Ask any Arsenal fan, a group now driven demented by Arsene Wenger's refusal to either alter his famed footballing philosophy - or hand over the reins to someone else.
As one banner at Chelsea on Saturday read, "Enough is Enough, Time to Go." The Gunners supporter holding the placard was dismissed as "an idiot" by Gary Neville but desperate people do stupid things.
"Arsene Wenger doesn't deserve that," the former Manchester United defender-turned-pundit argued. "Obviously, the Arsenal fans are disappointed, but to pre-empt [a defeat] by bringing a banner into the ground is a joke."
Wenger, a three-time Premier League winner, does indeed deserve better but surely the more salient point here was that the "idiot" in question could make his banner beforehand, safe in the knowledge that his side would indeed self-destruct at Stamford Bridge.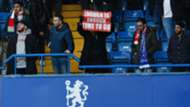 There is no more damning indictment of Wenger's Arsenal. Gooners had seen this game before. Too many times. Consequently, they want to see change, evolution, but the sad truth is that the man who once revolutionised English football, the mastermind behind the greatest team the Premier League has ever seen, has run out of ideas.
Time waits for no man and Wenger's time is up. According to Goal sources, Wenger is still weighing up a two-year contract extension that former defender Martin Keown fully expects him to sign. However, as the ex-England international told BT Sport, "I'm not sure that will sit well with the fans."
Martial rubbishes Man Utd exit talk
It won't. Not at all. They are, like many Americans right now, so disillusioned, so desperate for change, that they would entrust their futures into the hands of a power-hungry madman.
Luckily for Arsenal, though, it need not come to that. Goal understands that Massimiliano Allegri could quit Juventus this summer - and the 49-year-old is the ideal coach for the Gunners.
Allegri is, for the most part, a calm, composed character. However, he is not afraid to take risks. He is the right kind of 'crazy' for Arsenal.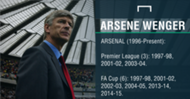 After watching his troops turn in a tepid performance in a 2-1 defeat at Fiorentina earlier this month, Allegri decided enough was enough, it was time for a change.
Juve were still top of Serie A, and already safely through to the last 16 of the Champions League, but he detected an air of complacency among his players. So, to shake things up, Allegri ditched the 3-5-2 system that had served him and predecessor Antonio Conte so well, and fielded an adventurous 4-2-3-1 formation in Juve's very next outing, against Lazio.
"I am not much of a theorist," Allegri admitted after a commanding 2-0 win in Turin, "but every now and then I come up with a mad idea and try it on the pitch. The important thing is to be sure what you're doing."
WATCH: Ligue 1 derby ends in fight
The results certainly suggest that the former AC Milan coach knows what he is doing: Juve have won four games in a row in all competitions, conceding just one goal in the process.
Allegri has stacked more attacking players in the starting line-up - yet managed to solidify his side in the process - and there was a nice symmetry in Juve winning their third successive Serie A game with their new formation on the same weekend that Arsenal suffered yet another humiliating loss to Chelsea.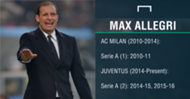 Allegri regularly likes to say that, "A coach should do as little damage as possible" to his team. When he succeeded Conte at the helm in 2014, he took over a side that had won three consecutive Scudetti - yet Allegri has made Juve better, as evidenced by the way in which he led a side that had struggled in Europe to the final of the Champions League at the end of his first season in charge.
Allegri had a tough act to follow but actually improved Juve. He is still improving Juve. Wenger, by contrast, is hurting Arsenal, and their fans.
The Arsenal gamble that never paid off
He knows it, too. He is an astute man - and that is why he is stalling over signing that new contract. The Frenchman wants to see how the season finishes but the league is already gone for another year and he needs to accept that he is not the man to regain it. It would be sad to see him endure another campaign like this, given everything he has given to Arsenal, and English football.
Wenger needs to do right by his club, and its supporters, and step aside to allow Arsenal to move for Allegri. To do otherwise would be the definition of insanity.