England
England Women's boss Neville deletes Twitter account after backlash to sexist tweets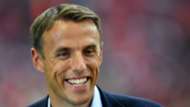 Phil Neville has deleted his Twitter account amid a fierce backlash over his appointment as England Women's manager.
The former Manchester United defender has been announced as the successor to Mark Sampson, who was sacked last year in disgrace.
Neville's tweets have been the subject of intense scrutiny in recent days, as a result, with a number of sexist messages unearthed by supporters.
One seems to poke fun at the idea of women's equality, reading: "You women have always wanted equality until it comes to paying the bills #hypocrites".
Neville also tweeted a clarification regarding a previous tweet claiming that he thought women would have been preoccupied in the morning, as they would have been "busy preparing breakfast/getting kids ready/making the beds."
The 41-year-old has now deleted the entirety of his Twitter account, seemingly in the wake of these tweets coming to light.
It remains to be seen if Neville will be discplined by the Football Association, though the governing body has yet to comment.