Super League
Elavarasan looking to avoid silly mistakes at the back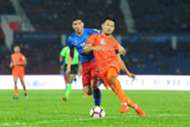 PKNS heads into their Super League clash against Kedah on Tuesday night, looking for their first win in nine league matches. The Red Ants' last league victory was the 3-0 win over Perak back in early February.
Despite losing Tan Cheng Hoe in recent events, Kedah are still a force to be reckoned with and the task facing PKNS remains a huge one.
With Liridon Krasniqi back in the fold, Kedah will have their main creative fulcrum back and PKNS' head coach, E. Elavarasan warns his players that they need to maintain a high level of concentration throughout the match.
"The players need to stay in focus, any lapse and we will be punished by a very experienced Kedah forward line. I do not want us to be punished because of any careless mistakes," said the coach through the club channel.
One key player for Elavarasan could be Fauzan Dzulkifli who has been withdrawn back from midfield into the heart of the defence. Fauzan spent three seasons with PKNS from 2011 to 2014 before trying his luck with Felda United and then Penang.
The 29-year-old has the necessary experience to assume the role and he understands how critical it is for PKNS to make full use of home advantage. For the first time this season, PKNS will be playing their home match under the lights after approval was given last week.
"Playing at home is an opportunity that PKNS has to take because we must improve in the second round of the Super League. Tenth is not a good position and we need to find our winning rhythm quick."
"Even though Kedah are in third spot, it is not a guarantee that they will win at Shah Alam," said Fauzan.
In the reverse fixture back in early April, PKNS performed admirably to hold Kedah to a 1-1 draw at Darul Aman Stadium.
Elavarasan opted for a more defensive approach during that match and might be looking to employ the same tactics this time around. However, he will be without the service of striker Safee Sali as he sits out with a suspension.