eSports
eFootball League PS4 quarter final fixtures and results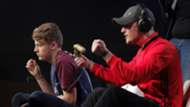 The 2018 eFootball League's PS4 division has now reached the quarter finals of the tournament with the remaining eight teams battling for a chance to win a share of the £10,000 prize pool.
The tournament includes some of the best FIFA eSport players from across Europe and is being broadcast exclusively by Goal on Facebook, YouTube and Twitch.
The results and tables from the last 16 is listed below, along with the fixtures for the quarter final.
---
Last 16 results
---
|   | 1st | 2nd | AGG |
| --- | --- | --- | --- |
| Dani_Fink96 (VfL Bochum) | 3 | 5 | 8 |
| TimoX08 (VfL Wolfsburg) | 2 | 4 | 6 |
|   |   |   |   |
| YimmieHD (Feyenoord) | 2 | 5 | 7 |
| FUTWIZTOM (FUTWIZ) | 5 | 8 | 13 |
|   |   |   |   |
| FIFA_Fredberg (Brondby) | 5 | 4 | 9 |
| KINGEP (PEC Zwolle) | 7 | 2 | 9 |
|   |   |   |   |
| aaygun96 (PSV Eindhoven) | 2 | 1 | 3 |
| Lev_Vinken (Sparta Rotterdam) | 2 | 2 | 4 |
|   |   |   |   |
| TomHeijnen95 (Roda JC Kerkrade) | 0 | 0 | 0 |
| florisacm (Team Gullit) | 3 | 3 | 6 |
|   |   |   |   |
| TonyKokNL (FC Twente) | 2 | 1 | 3 |
| Marcuzo45 (Manchester City) | 1 | 3 | 4 |
|   |   |   |   |
| M4RV_ (Bayer 04 Leverkusen) | 3 | 2 | 5 |
| CodyderFinisher (FC Basel) | 2 | 4 | 6 |
|   |   |   |   |
| xL_Kev96 (exceL) | 3 | 1 | 4 |
| stefanopinna21 (ECV Sports) | 1 | 1 | 2 |
---
Quarter-finals
---
 After a tense last 16 knockout phase the final eight teams have made it to the quarter-finals in the hope to reach the semi-finals of the Xbox division. Highlights of the knockout stage included FIFA_Fredberg's golden goal taking Brondby through after both teams had an aggregate of nine goals and FUTWIZTOM taking a quarter-final spot for FUTWIZ after beating YimmieHD representing Feyenoord by three goals in each leg. The quarter-final fixtures for the PS4 division are:
|   | 1st | 2nd | AGG |
| --- | --- | --- | --- |
| Dani_Fink96 (VfL Bochum) |   |   |   |
| xL_Kev96 (exceL) |   |   |   |
|   |   |   |   |
| Marcuzo45 (Manchester City) |   |   |   |
| Lev_Vinken (Sparta Rotterdam) |   |   |   |
|   |   |   |   |
| FIFA_Fredberg (Brondby) |   |   |   |
| florisacm (Team Gullit) |   |   |   |
|   |   |   |   |
| CodyderFinisher (FC Basel) |   |   |   |
| FUTWIZTOM (FUTWIZ) |   |   |   |
---
Semi-finals 
---
The four semi-finalists from the PS4 and Xbox One divisions will face off, with the winner's of both divisions playing a two-legged match incorperating both platforms. The four semi-finalists from the Xbox division are: 
Xbox division finalists
Emrebenli_7 (FC Twente)
MegaBit98 (VFL Bochum)
LevyFrederique (SBV Excelsior)
proownezyt (FOCUS CLAN)