eSports
EA Sports launch FIFA 18 Ajax limited edition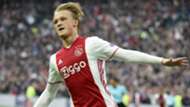 EA Sports have announced the launch of a special Ajax limited edition version of FIFA 18 which will be available upon the game's release on September 29.
The bespoke version of the game features a sleek red cover with emblazoned with the Eredivisie side's logo and is available to pre-order from the club's official online shop.
Ajax's own eSports players Koen Weijland and Dani Hagebeuk are understandably excited at the prospect of having their own custom version of the game, which is available across all consoles.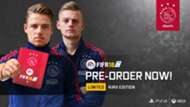 "It's awesome that we now have Ajax's own club edition of FIFA 18," Weijland told the club's official website. "The limited edition is really cool - I'm curious to find out what the fans think about it!"
Hagebeuk, meanwhile, cannot wait to get started with his training, saying: "The new FIFA is something special – as soon as the game is released I will begin training immediately so that I can be at the top level as soon as possible.
I can't wait till the game comes out on September 29th so that I can begin competing with Koen for national and international prizes."
Want to know more about FIFA 18? Check out Goal's comprehensive guide including costs, pre-order information, new Ultimate Team features and much more right here.